Eppendorf Combitips – A Reliable and Precise System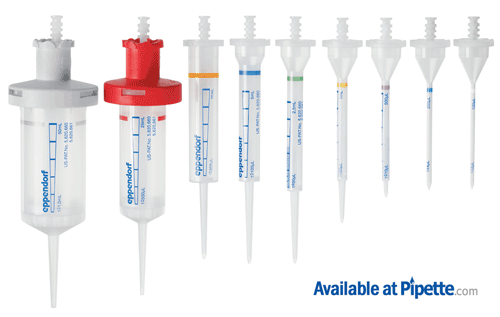 The Eppendorf Combitip system is designed to meet the needs of any and all modern laboratories. Eppendorf Combitips include Combitips advanced® which is a replacement for the Combitips plus®. New additions include a new special ergonomic design, color-coding, and optimized graduation.
Eppendorf Combitips® advanced easily attach to the repeater because of the built-in sensor which recognized the size of the Combitip. The volume automatically appears in the display which eliminates time spent making volume calculations.
Eppendorf Combitips utilize the positive displacement principle to effectively dispense the precise desired volume, regardless of the density of the liquid. The Eppendorf Combitips prevent aerosol contamination even when working with aggressive, radioactive, or toxic material due to the hermetically sealed piston.
Eppendorf Combitips advanced are available in 5 different purity grades to fit any laboratory's needs:
Check out the Eppendorf Repeater M4 pipette- the perfect companion for your Combitips!
The electronic Eppendorf E3 Repeater pipette is programmable, its ideal for high-throughput pipetting.