Eppendorf - 96 -well PCR Plates - 30132700
twin.tec 96 real-time PCR Plates, unskirted, white
Product Description:
Eppendorf twin.tec® real-time PCR Plates offers all the advantages of regular twin.tec plates and gives you the advantage of white wells for your real-time PCR. White wells significantly reduce interfering ­background fluorescence and lead to increased homogeneity of replicates and reproducible results. Eppendorf twin.tec PCR plates combine extremely thin walled polypropylene wells for optimal heat transfer to the sample and extremely robust polycarbonate frames for ultimate rigidity and torque-resistance.
High intensity of fluorescence improves sensitivity in qPCR. This graph shows you an up to 10-fold higher fluorescence measurement of twin.tec® real-time PCR plates than those with frosted wells.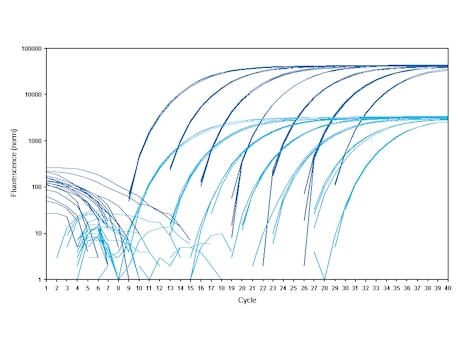 Eppendorf twin.tec® real-time PCR plates reduce Ct-values more effectively than other tested plates. On average, Ct-values occur 0.8 cycles earlier (compared to clear wells), indicating better sensitivity.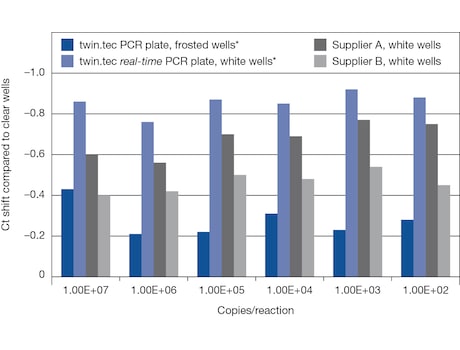 White wells improve homogeneity of results over the block. In this graph you can see the reduced Standard Deviation over the block compared to other plates.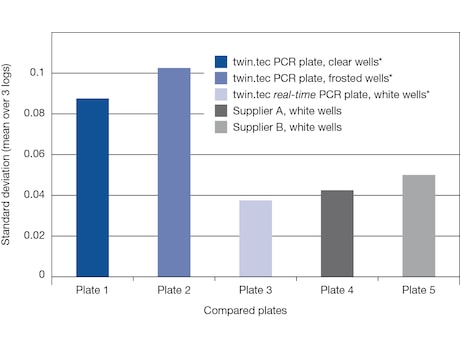 Eppendorf twin.tec® real-time PCR Plates features and benefits:
White wells for better reflection
High mechanical stability
Effective sealing by raised well rims
Skirted and semi-skirted frames
Optimal heat transfer due to reduced wall thickness
Autoclavable (121 °C, 20 min)
Available with barcode (upon request)
Ideal for real-time PCR and melting curve analysis
TOKENLIST: START "MM5_Config_Initialization_Globals": { ":initialized": 1 } , "Data_Opened": 1 , "Domain": { "address": "9477 Waples Street \u0023120", "admexp": 240, "admin_burl": "https:\/\/pipette.com\/mm5\/", "admin_surl": "https:\/\/pipette.com\/mm5\/admin.mvc\u003F", "base_surl": "https:\/\/pipette.com\/mm5\/", "base_url": "https:\/\/pipette.com\/mm5\/", "ciphers": "aes-256-cbc,aes-128-cbc,bf-cbc", "city": "San Diego", "company": "Matphil Technologies", "country": "US", "email": "jan@pipette.com", "fax": "", "highactv": 15, "highsess": 16, "highsessdt": 1701383944, "highuser": 14, "image_root": "\/mm5\/", "img_ext": "gif,jpg,jpeg,jpe,xbm,png,pdf", "img_qual": 80, "img_sroot": "\/mm5\/", "javascript": "combined", "li_trys": 5, "lic_at": 0, "lic_dt": 1701466582, "lic_lo": 0, "license": "MMSAS-X4CQUVA99E9", "lo_time": 30, "log_local": 0, "logindelay": 5000, "mail_angl": 1, "mailflags": "", "mailhost": "localhost", "mailmeth": "", "mailpass": "", "mailport": 25, "mailuser": "", "maxadmexp": 1701725782, "maxadmsess": 20, "maxadmsig": "nYFdsy2a3dneI6yEtSXdnoAfl80w0oKJbToMMSkPcz\/393Mj\/+C2bszgUj7\/VW8vr3wXcmuJGyS0U3WOGcdQiI\/nHdv6EpTDhmkzz9iviNYNpMxMDIKYw+QCSDEUKNdpBGMIV0IACQvxC9kv1D+SbHqWxMe2SJ8I9oLvNLl1PbttZyml\/AVXbaUl0W1QjA6sq07AfF49SLWfSGCDxW2EZJtUyHuKqMG1cT2CZwVIlmFS5ZhXz2ZAJeJAFFM3\/wMzlGCJM+fEgMVEHbbbKsDyTlM51OcOnUvZkw4PWrlHS0k8RPCci17WaHL5TvxB1q6XfHrWu1sozvkcieslBgB5oA\u003D\u003D", "maxstores": 0, "mm_params": "never", "mm_secure": 1, "mm_surl": "https:\/\/pipette.com\/mm5\/merchant.mvc\u003F", "mm_url": "https:\/\/pipette.com\/mm5\/merchant.mvc\u003F", "mmc_domn": "", "mmc_output": "https", "mmc_path": "\/", "mmc_sdomn": "", "mmc_site": "", "mmc_spath": "\/", "mmc_ssite": "", "mmcexp": 525600, "mmcsexp": 0, "mod_root": "\/mm5\/", "mod_sroot": "\/mm5\/", "name": "pipette.com", "owner": "Jan Schexnayder", "padss_time": 1699983932, "partner": "Miva Merchant SaaS", "phone": 8587740221, "pw_complex": 1, "pw_max_age": 365, "pw_min_len": 8, "pw_reuse": 0, "state": "CA", "strictcode": 0, "stsl_id": 1, "upgd_ignr": "", "verify_ip": 1, "version": "10.08.00", "zip": 92121 } , "Store": { "address": "9477 Waples Street \u0023120", "addrval_id": 138, "baskexp": 240, "boxpack_id": 6, "boxpack_mod": { "active": 1, "api_ver": 9.07, "code": "packbyweight", "id": 6, "module": "modules\/boxpacking\/packbyweight.mvc", "name": "Pack by Weight", "provider": "Miva Merchant", "refcount": 1, "version": 10 }, "branch": { "branchkey": "59ddaa44795e99e3766d0755060747af", "color": "\u002320c171", "framework": "cssui_default_fw", "id": 20, "immutable": 0, "name": "Production", "tmpldir": "b20\/" }, "branch_id": 20, "cache_comp": 0, "cache_exp": 240, "cache_type": "none", "cache_ver": 1701296962, "cacheset": { "cookie": { "mm5-pipette-facet-compatiblepipette": { "mode": "key" }, "mm5-pipette-facet-compatibleplates": { "mode": "key" } }, "header": { "X-Miva-Partial-Render": { "mode": "key" }, "X-Miva-Partial-Render-Output": { "mode": "key" } }, "parameter": { "gclid": { "mode": "ignore" } } }, "charset": "utf-8", "city": "San Diego", "code": "pipette", "company": "Matphil Technologies", "country": "US", "crypt_id": 0, "currncy_id": 77, "currncy_mod": { "active": 1, "api_ver": 9.07, "code": "usmoney", "id": 77, "module": "modules\/currency\/usmoney.mvc", "name": "US Currency Formatting", "provider": "Miva Merchant", "refcount": 1, "version": 10 }, "deferbask": 1, "dmunitcode": "IN", "email": "info@pipette.com", "fax": "858-536-3342", "framework": "cssui_default_fw", "icon": "graphics\/en-US\/admin\/store_icon_1.png", "id": 1, "license": "MMSAS-X4CQUVA99E9", "manager_id": 1, "mnt_close": "\u003Cimg src\u003D\"https:\/\/2753166.fs1.hubspotusercontent-na1.net\/hubfs\/2753166\/Pipette-maintenance-banner-V7.png\" alt\u003D\"Pipette.com Maintenance\"\u003E", "mnt_ips": "174.114.91.250,\r\n75.83.27.247,\r\n99.145.237.133,\r\n107.132.38.42,\r\n75.85.182.154,\r\n70.167.178.114,\r\n10.7.20.34,\r\n184.147.176.78,\r\n174.51.166.239,\r\n52.21.199.101,\r\n52.9.203.168,\r\n13.55.235.114,\r\n68.4.38.77,\r\n74.14.70.155,\r\n70.166.95.180,\r\n207.35.181.162,\r\n136.52.39.144,\r\n73.66.141.238,\r\n73.158.20.62,\r\n99.73.227.235,\r\n172.222.210.7,\r\n73.70.216.63,\r\n64.58.184.187,\r\n71.9.32.98,\r\n103.124.15.117,\r\n99.90.72.29,\r\n103.124.15.245,\r\n75.178.147.54,\r\n70.175.133.79,\r\n10.7.20.40,\r\n181.41.28.48,\r\n103.124.13.135,\r\n103.124.15.140,\r\n103.124.15.71,\r\n45.49.164.232,\r\n159.250.113.17,\r\n76.167.72.181,\r\n68.6.150.149,\r\n52.128.53.135,\r\n75.80.105.45,\r\n103.124.13.167,\r\n76.217.131.228,\r\n76.118.142.217,\r\n70.95.18.33,\r\n8.47.98.242,\r\n2603:8000:e600:6f:b175:b0c4:3bab:405d,\r\n2601:644:8400:52b0:2053:4e6a:a0e3:5894,\r\n2600:1700:f7d0:5310:b41d:3863:4df6:de6b,\r\n2600:1700:f7d0:5310:bc63:2bce:1810:7186,\r\n174.112.222.83,\r\n70.167.178.114,\r\n2603:9000:9905:616a:bc53:6a0f:cc19:d6d0,\r\n99.132.72.162,\r\n24.120.53.201,\r\n136.52.39.144,\r\n72.199.148.47,\r\n209.132.3.11,\r\n2607:4d00:2000:abcd::1047,\r\n2600:8801:8605:e600:6dc0:1c67:c4f5:8292,\r\n2600:8801:8605:e600:84d1:772b:ad0d:1bed,\r\n174.112.248.199,\r\n10.7.20.86,\r\n49.36.80.224,\r\n68.8.147.73,\r\n70.26.242.204", "mnt_no_new": 0, "mnt_time": 0, "mnt_warn": "\u0025store_name\u0025 will be closing in \u0025maint_countdown\u0025 minutes for maintenance. Please complete your selection and proceed to the checkout. All abandoned baskets will be emptied.", "name": "Pipette", "omin_all": 0, "omin_msg": "", "omin_price": 0, "omin_quant": 0, "owner": "Jan Schexnayder", "pgrp_ovlp": "PRIORITY", "phone": "800-243-3232", "redisex": 300, "redishost": "127.0.0.1", "redisport": 6379, "redispwd": "", "redisto": 1000, "req_frship": 0, "req_ship": 0, "req_tax": 1, "schtsk_adv": 0, "schtsk_min": 0, "state": "CA", "tax_id": 200, "tax_mod": { "active": 1, "api_ver": 9.08, "code": "avatax", "id": 200, "module": "modules\/tax\/mvavatax.mvc", "name": "AvaTax", "provider": "Miva Merchant", "refcount": 1, "version": 10.07 }, "trackhits": 1, "ui_id": 148, "ui_mod": { "active": 1, "api_ver": 9.04, "code": "cssui", "id": 148, "module": "modules\/ui\/cssui.mvc", "name": "Miva Merchant CSSUI", "provider": "Miva Merchant", "refcount": 1, "version": 10.08 }, "wtunitcode": "LB", "wtunits": "pounds", "zip": 92121 } , "Store_Table_Prefix": "s01_" , "User": "" , "Session": { "_mgr": { "working_branch_stack": [ { "branch": { "branchkey": "59ddaa44795e99e3766d0755060747af", "color": "\u002320c171", "framework": "cssui_default_fw", "id": 20, "immutable": 0, "name": "Production", "tmpldir": "b20\/" } } ], "working_branch_stack_count": 1 }, "cache": { "cmp_cssui_pchdft": { "product": { "product_id": 60574 } }, "cmp_mv_prodctgy_meta": { "global": { "error_code": "EOF", "error_db_eof": 1, "error_message": "No records found: MER-CMP-MTA-00090", "fields": "", "result": 0, "values": "" }, "page": { "error_code": "EOF", "error_db_eof": 1, "error_message": "No records found: MER-CMP-MTA-00099", "fields": "", "page_id": 5, "pagever_id": 5, "result": 0, "values": "" }, "product": { "error_code": "EOF", "error_db_eof": 1, "error_message": "No records found: MER-CMP-MTA-00044", "fields": { "description": "", "keywords": "" }, "product_id": 60574, "result": 0, "values": "" } }, "cssresource_render": { "combofacets": { "loaded": 1 }, "customizations-common": { "loaded": 1 }, "customizations-component-condition": { "loaded": 1 }, "customizations-mini-basket": { "loaded": 1 }, "customizations-product-display": { "loaded": 1 }, "pdc-print-cart": { "loaded": 1 }, "preconnect-google-analytics": { "loaded": 1 }, "preconnect-google-fonts": { "loaded": 1 }, "preconnect-google-tag-manager": { "loaded": 1 }, "theme": { "loaded": 1 } }, "customfld": { "category": { "cat_id": 479, "fields": { "category_title_disp_name": "Eppendorf", "cjson_page_code": "CJSON_PLATES", "manufacturer": 1, "productcount": 9, "TPM_Cat_iD": 62 } }, "product": { "fields": { "accessories": [ 83803, 197203, 83803, 77704, 197180 ], "additives": "", "air_displacement": "", "autoclavable": "", "autoclave": "", "automation": "", "beaded_cuff": "", "cap_lid": "", "capacity": "", "cell_culture": "", "channels": "", "closure_type": "", "color": "", "condition": "New", "cryogenic": "", "CSD_MSRP": 1820, "deals_categories": [ "" ], "displacement_type": "", "electronic": "", "erp_category": "", "extra_long": "", "filtered": "", "fixed_variable": "", "g_force": "", "gel_loadin": "", "glove_material": "", "hematocrit": "", "inventory_variants": [ "" ], "load_capacity": "", "low_retention": "", "macro_tips": "", "manufacturer": "Sartorius", "ManufacturerPartNumber": 735391, "material": "", "max_speed": "", "max_tube_diameter": "", "max_tube_size": "", "max_volume": "100 uL", "min_volume": "", "non_manufacturer_direct": "", "packing_type": "", "parent-product": "", "parent_code": [ "" ], "pcr": "", "pipette_type": "", "positive_displacement_pipettes": "", "power_source": "", "prod_depth": "", "prod_height": "", "prod_savings_color": "", "prod_savings_text": "", "prod_svcs_any_stock": "", "prod_svcs_codes": [ "" ], "prod_width": "", "product_accessories": "", "promo_ctgy": "", "promo_image": "", "quantity": "", "recirculating": "", "refrigerated": "", "related_product_category": "", "rotor_type": "", "sample": "", "shape": "", "short_description": "", "show_plates_comp_link": "", "show_tips_comp_link": "", "size": "", "specific_sale_price": "", "sterile": "", "tabs_features": "", "tabs_manuals": "", "tabs_overview": "735391, Sartorius - Liquid Handling \u0028LH\u0029 - Picus Elect. Pipette, 8-ch, 50 -1200 \u0026\u0023181\u003Bl", "tabs_technical_specs": [ "" ], "tabs_videos": [ "" ], "textured": "", "tip_attributes": [ "" ], "unit_of_measure": "", "use_pjson": "", "voltage": "", "volume_type": "", "wells": "", "wide_bore": "" }, "product_id": 60396 } }, "discount_addon": { "product_load_pricegroup": [ { "product": { "active": 1, "agrpcount": 0, "cancat_id": 0, "catcount": 0, "code": "war-00001", "cost": 149, "descrip": "1 year extended warranty for Certified Refurbished Eppendorf Centrifuge, includes parts and labor, shipping not included", "disp_order": 322165, "dt_created": 1678210442, "dt_updated": 1701389298, "id": 322165, "image": "", "inv_active": 1, "inv_available": 15, "inv_instock": 15, "inv_level": "in", "inv_long": "\u0028Order Now\u0029", "inv_low_level": 0, "inv_low_track": 0, "inv_out_level": 0, "inv_out_track": 0, "inv_short": "In Stock", "name": "Refurb Eppendorf Centrifuge - 1 YR Extended Warranty", "original_active": 1, "page_code": "", "page_title": "", "pgrpcount": 0, "price": 299.99, "sku": "1-yr-extended-warranty", "taxable": 1, "thumbnail": "", "weight": 1 }, "result": 1 } ] }, "discount_saleprice": { "customfields": { "lookup": "", "product_id": 60574 }, "pricegroups": { "pricegroups": [ { "baskexc": "", "bmn_quan": 0, "bmn_subtot": 0, "bmn_weight": 0, "bmx_quan": 0, "bmx_subtot": 0, "bmx_weight": 0, "config": { "customfield_code": "specific_sale_price" }, "custscope": "A", "descrip": "", "discount": 0, "display": 1, "dt_end": 0, "dt_start": 0, "exclusion": 1, "id": 5, "itemexc": "", "markup": 0, "module_id": 82, "name": "Product Specific Sale Price", "original_module_id": 82, "priority": 0, "qmn_quan": 0, "qmn_subtot": 0, "qmn_weight": 0, "qmx_quan": 0, "qmx_subtot": 0, "qmx_weight": 0, "rate": "R" } ], "result": 1 }, "pricegroups_lookup": { "5": 5, "specific_sale_price": 5 } }, "discount_volume": { "pricegroups": { "initialized": 1, "volume_pricegroup_count": 0 } }, "discountoptions_load_cached": { "discountoptions": { "adj_charge": "Discount Adjustment", "adj_code": "adjustment", "adj_name": "Discount Adjustment", "delshipcan": 0, "exdefault": "", "repricecan": 1, "repricerma": "received", "repricetot": "item", "reshipcan": 1, "retaxcan": 1, "usl_disc": 1, "usl_qual": 1 }, "result": 1 }, "discountsignature_calculate_cached": [ { "result": 1, "signature": "a98648df5349e6df207a8bcef2d4e390" } ], "inventorysettings_load_cached": { "inventorysettings": { "active": 1, "eml_cc": "", "eml_from": "accounting@pipette.com", "eml_low": 0, "eml_msg": "\u0025product_name\u0025 \u0025inv_level\u0025", "eml_out": 0, "eml_sub": "\u0025product_name\u0025 \u0025inv_level\u0025", "eml_to": "accounting@pipette.com", "ex_page": "BASK", "in_long": "\u0028Order Now\u0029", "in_short": "In Stock", "low_level": 50, "low_long": "\u0028Order now while supplies last\u0021\u0029", "low_short": "Low Stock", "low_track": 0, "ltd_long": "Sorry, we do not have enough \u0027\u0025product_name\u0025\u0027 to fill your order. Please adjust the quantity and try again. Quantity Available: \u0025inv_available\u0025", "mode": "basket", "out_hide": 0, "out_level": 0, "out_long": "\u0028This item is currently on out of stock.\u0029", "out_short": "Out Of Stock", "out_track": 0 }, "result": 1 }, "javascriptresource_render": { "GTM-dataLayer": { "loaded": 1 }, "GTM-head-tag": { "loaded": 1 }, "legacy-browsers": { "loaded": 1 }, "runtimecombofacets": { "loaded": 1 } }, "mailchimp": { "settings": { "error_code": "", "error_message": "", "result": 1, "settings": { "actoken": "", "apiendpnt": "", "autoopt": 0, "bskts_kpal": 2880, "bskts_sync": 1, "currency": "", "dblopt": 0, "dc": "", "domain": "https:\/\/pipette.mivamerchant.net\/mm5\/merchant.mvc\u003FScreen\u003DSFNT", "imagetypes": "", "list_id": "", "loginurl": "", "ordrsrc_ex": { "marketplaces_amazon": 1 }, "store_id": "" } } }, "managedtemplateversion_load_filename_current_cached": { "cssui-javascript-searchfield.mvc": { "managedtemplateversion": { "dtstamp": 1607028135, "id": 3617, "immutable": 0, "notes": "", "settings": { "defer": 1, "srch_page": "SRCH" }, "source": "\/\u002A\u002A\r\n \u002A This function allows you to prepend or append code to an existing function.\r\n \u002A https:\/\/stackoverflow.com\/questions\/9134686\/adding-code-to-a-javascript-function-programmatically\r\n \u002A\/\r\nfunction functionExtender\u0028container, funcName, prepend, append\u0029 \u007B\r\n\t\u0028function \u0028\u0029 \u007B\r\n\t\t\u0027use strict\u0027\u003B\r\n\t\tlet cachedFunction \u003D container\u005BfuncName\u005D\u003B\r\n\r\n\t\tcontainer\u005BfuncName\u005D \u003D function \u0028\u0029 \u007B\r\n\t\t\tif \u0028prepend\u0029 \u007B\r\n\t\t\t\tprepend.apply\u0028this\u0029\u003B\r\n\t\t\t\u007D\r\n\r\n\t\t\tlet result \u003D cachedFunction.apply\u0028this, arguments\u0029\u003B\r\n\r\n\t\t\tif \u0028append\u0029 \u007B\r\n\t\t\t\tappend.apply\u0028this\u0029\u003B\r\n\t\t\t\u007D\r\n\r\n\t\t\treturn result\u003B\r\n\t\t\u007D\u003B\r\n\t\u007D\u0029\u0028\u0029\u003B\r\n\u007D\r\n\r\n\/\u002A\u002A\r\n \u002A This controls what happens when you click TAB on a selected search item.\r\n \u002A\/\r\nfunctionExtender\u0028\r\n\tMMSearchField.prototype,\r\n\t\u0027Event_Keydown\u0027,\r\n\tfunction \u0028\u0029 \u007B\u007D,\r\n\tfunction \u0028\u0029 \u007B\r\n\t\tlet tabTarget \u003D this.selected_item\u003B\r\n\r\n\t\tif \u0028tabTarget \u0021\u003D\u003D null\u0029 \u007B\r\n\t\t\tif \u0028event.keyCode \u003D\u003D\u003D 9 \u0026\u0026 tabTarget \u0021\u003D\u003D this.menu_item_storesearch\u0029 \u007B\r\n\t\t\t\tthis.element_search.value \u003D tabTarget.childNodes\u005B0\u005D.getAttribute\u0028\u0027data-search\u0027\u0029\u003B\r\n\t\t\t\u007D\r\n\t\t\u007D\r\n\t\u007D\r\n\u0029\u003B\r\n\r\n\r\nMMSearchField.prototype.onMenuAppendHeader \u003D function \u0028\u0029 \u007B\r\n\treturn null\u003B\r\n\u007D\u003B\r\n\r\nMMSearchField.prototype.onMenuAppendItem \u003D function \u0028data\u0029 \u007B\r\n\tlet searchResult\u003B\r\n\r\n\tsearchResult \u003D newElement\u0028\u0027li\u0027, \u007B\u0027class\u0027: \u0027x-search-preview__entry\u0027\u007D, null, null\u0029\u003B\r\n\tsearchResult.innerHTML \u003D data\u003B\r\n\tsearchResult.setAttribute\u0028\u0027aria-selected\u0027, \u0027false\u0027\u0029\u003B\r\n\tsearchResult.setAttribute\u0028\u0027role\u0027, \u0027option\u0027\u0029\u003B\r\n\r\n\treturn searchResult\u003B\r\n\u007D\u003B\r\n\r\nMMSearchField.prototype.Menu_Item_Select \u003D function \u0028item\u0029 \u007B\r\n\tthis.selected_item \u003D item\u003B\r\n\tthis.menu_items.forEach\u0028function \u0028menuItem\u0029 \u007B\r\n\t\tmenuItem.setAttribute\u0028\u0027aria-selected\u0027, \u0027false\u0027\u0029\u003B\r\n\t\u007D\u0029\u003B\r\n\r\n\tif \u0028item \u0021\u003D\u003D null\u0029 \u007B\r\n\t\tthis.selected_item.className \u003D classNameAdd\u0028 this.selected_item, \u0027mm_searchfield_menuitem_selected\u0027 \u0029\u003B\r\n\t\tthis.selected_item.setAttribute\u0028\u0027aria-selected\u0027, \u0027true\u0027\u0029\u003B\r\n\t\u007D\r\n\u007D\u003B\r\n\r\nMMSearchField.prototype.onMenuAppendStoreSearch \u003D function \u0028search_value\u0029 \u007B\r\n\tlet searchAll\u003B\r\n\r\n\tsearchAll \u003D newElement\u0028\u0027li\u0027, \u007B\u0027class\u0027: \u0027x-search-preview__search-all\u0027\u007D, null, null\u0029\u003B\r\n\tsearchAll.element_text \u003D newTextNode\u0028\u0027Search store for product \"\u0027 + search_value + \u0027\"\u0027, searchAll\u0029\u003B\r\n\tsearchAll.setAttribute\u0028\u0027aria-selected\u0027, \u0027false\u0027\u0029\u003B\r\n\tsearchAll.setAttribute\u0028\u0027role\u0027, \u0027option\u0027\u0029\u003B\r\n\r\n\treturn searchAll\u003B\r\n\u007D\u003B\r\n\r\nMMSearchField.prototype.onFocus \u003D function \u0028\u0029 \u007B\r\n\tthis.element_menu.classList.toggle\u0028\u0027x-search-preview--open\u0027\u0029\u003B\r\n\u007D\u003B\r\n\r\nMMSearchField.prototype.onBlur \u003D function \u0028\u0029 \u007B\r\n\tthis.element_menu.classList.toggle\u0028\u0027x-search-preview--open\u0027\u0029\u003B\r\n\u007D\u003B", "templ_id": 1, "user_id": 5 }, "result": 1 }, "global-minibasket.mvc": { "managedtemplateversion": { "dtstamp": 1701444886, "id": 16810, "immutable": 0, "notes": "User Interface settings update", "settings": { "advanced": 1, "b_height": 120, "b_width": 120, "constrain": "B", "discounts": 1, "groups": 1, "handling": 1, "imagetypes": [ "main" ], "ldiscount": 1, "maxprodlen": 0, "salestax": 1, "shipping": 1 }, "source": "\u003Cdiv class\u003D\"x-mini-basket--overlay\" data-hook\u003D\"mini-basket-overlay\"\u003E\u003C\/div\u003E\r\n\u003Csection class\u003D\"x-mini-basket\" data-hook\u003D\"mini-basket\" data-item-count\u003D\"\u0026mvt:global_minibasket:basket_count\u003B\" data-subtotal\u003D\"\u0026mvt:global_minibasket:formatted_total\u003B\" aria-modal\u003D\"true\" tabindex\u003D\"-1\"\u003E\r\n \u003Cdiv class\u003D\"x-mini-basket__content u-bg-white\" data-hook\u003D\"mini-basket__content\" aria-describedby\u003D\"mb-description\" aria-label\u003D\"Your Cart Summary\" role\u003D\"dialog\" tabindex\u003D\"0\"\u003E\r\n \t\u003Cdiv class\u003D\"x-mini-basket__header\"\u003E\r\n \u003Cstrong id\u003D\"mb-description\" class\u003D\"h1\"\u003EMy Cart: \u0026mvt:global_minibasket:basket_count\u003B item\u0028s\u0029\u003C\/strong\u003E\r\n \u003Ca class\u003D\"link-secondary\" href\u003D\"\u0026mvte:urls:BASK:auto\u003B\"\u003EEdit Cart\u003C\/a\u003E\r\n \u003Cbutton type\u003D\"button\" class\u003D\"button button--unstyled\" data-hook\u003D\"close-mini-basket\"\u003E\r\n \u003Cspan class\u003D\"is-srOnly\"\u003EClose the Mini-Basket\u003C\/span\u003E\r\n \u003Csvg class\u003D\"icon icon--close\"\u003E\u003Cuse xlink:href\u003D\"\u0023close-icon\"\u003E\u003C\/svg\u003E\r\n \u003C\/button\u003E\r\n \u003C\/div\u003E\r\n \t\u003Cdiv class\u003D\"x-mini-basket_scrollable-body\"\u003E\r\n \u003C\u0021--\u003Cheader\u003E --\u003E\r\n \u003C\/header\u003E\r\n \u003Cmvt:if expr\u003D\"NOT l.settings:global_minibasket:empty\"\u003E\r\n \u003Cdiv class\u003D\"x-mini-basket__message\"\u003E\r\n \u003C\u0021-- \u003Cdiv data-cart-message\u003E\u003C\/div\u003E --\u003E\r\n \u003C\/div\u003E\r\n \u003Cmvt:assign name\u003D\"l.settings:total_savings\" value\u003D\"0\" \/\u003E\r\n \u003Cdiv class\u003D\"x-mini-basket__list\"\u003E\r\n \u003Cmvt:foreach iterator\u003D\"item\" array\u003D\"global_minibasket:groups\"\u003E\r\n \u003Cmvt:do file\u003D\"g.Module_Library_DB\" name\u003D\"l.success\" value\u003D\"Product_Load_Code\u0028l.settings:item:code, l.settings:item_p \u0029\" \/\u003E\r\n\r\n \u003Cmvt:comment\u003E\r\n \u003C\u0021--\r\n Creates a new variable for the calculation of products with attribute pricing which do not\r\n use inventory variants.\r\n --\u003E\r\n \u003C\/mvt:comment\u003E\r\n \u003Cmvt:assign name\u003D\"l.settings:item:complete_subtotal\" value\u003D\"l.settings:item:subtotal\"\/\u003E\r\n \u003Cdiv class\u003D\"x-mini-basket__line\"\u003E\r\n \u003Cfigure class\u003D\"x-mini-basket__image\"\u003E\r\n\t\t\t\t\u003Cmvt:if expr\u003D\"NOT ISNULL l.settings:item:imagetypes:main\"\u003E\r\n\t\t\t\t\t\u003Cimg src\u003D\"\u0026mvte:item:imagetypes:main\u003B\" alt\u003D\"\u0026mvte:item:name\u003B\" loading\u003D\"lazy\" width\u003D\"\u0026mvte:global_minibasket:b_width\u003B\" height\u003D\"\u0026mvte:global_minibasket:b_height\u003B\"\u003E\t\t\r\n \u003Cmvt:else\u003E\r\n\t\t\t\t\t\u003Cimg src\u003D\"graphics\/00000001\/image_coming_soon.jpg\" alt\u003D\"\u0026mvte:item:name\u003B\" loading\u003D\"lazy\" width\u003D\"\u0026mvte:global_minibasket:b_width\u003B\" height\u003D\"\u0026mvte:global_minibasket:b_height\u003B\"\u003E\r\n \u003C\/mvt:if\u003E\t\r\n \u003C\/figure\u003E\r\n \u003Ca class\u003D\"x-mini-basket__item\" href\u003D\"\u0026mvt:item:link\u003B\"\u003E\r\n \u003Cspan class\u003D\"x-mini-basket__item-name h3\"\u003E\r\n \u0026mvt:item:name\u003B\r\n \u003C\/span\u003E\r\n \u003Cmvt:comment\u003E \u003Cspan class\u003D\"option-list\"\u003E\r\n \u003Cmvt:foreach iterator\u003D\"option\" array\u003D\"item:options\"\u003E\r\n \u003C\u0021--\r\n Adds the attribute pricing to the product pricing.\r\n --\u003E\r\n \u003Cmvt:assign name\u003D\"l.settings:item:complete_subtotal\" value\u003D\"l.settings:item:complete_subtotal + l.settings:option:subtotal\"\/\u003E\r\n \u003Cspan class\u003D\"u-font-small\"\u003E\r\n \u003Cmvt:if expr\u003D\"l.settings:option:option_id\"\u003E\r\n \u0026mvt:option:attr_prompt\u003B: \u0026mvt:option:opt_prompt\u003B\r\n \u003Cmvt:elseif expr\u003D\"NOT ISNULL l.settings:option:data\"\u003E\r\n \u0026mvt:option:attr_prompt\u003B: \u0026mvt:option:data\u003B\r\n \u003Cmvt:elseif expr\u003D\"NOT ISNULL l.settings:option:data_long\"\u003E\r\n \u0026mvt:option:attr_prompt\u003B: \u0026mvt:option:data_long\u003B\r\n \u003Cmvt:else\u003E\r\n \u0026mvt:option:attr_prompt\u003B\r\n \u003C\/mvt:if\u003E\r\n \u003C\/span\u003E\r\n \u003C\/mvt:foreach\u003E\r\n \u003Cmvt:if expr\u003D\"l.settings:item:subterm_id\"\u003E\r\n \u003Cdiv class\u003D\"u-font-small\"\u003ESubscription: \u0026mvte:item:productsubscriptionterm:descrip\u003B\u003C\/div\u003E\r\n \u003C\/mvt:if\u003E\r\n \u003C\/span\u003E \u003C\/mvt:comment\u003E\r\n \u003Cdiv class\u003D\"x-mini-basket__item-cat h5 u-color-gray-40\"\u003E\r\n CAT ID: \u0026mvte:item:sku\u003B\r\n \u003C\/div\u003E\r\n \u003Cdiv class\u003D\"x-mini-basket__item-total h5 u-color-primary u-text-uppercase\"\u003E\r\n \u003Cspan\u003EQuantity: \u0026mvte:item:quantity\u003B\u003C\/span\u003E\r\n \u003Cmvt:comment\u003E\r\n \u003C\u0021--\r\n Formats the new product pricing to the current store currency setting.\r\n --\u003E\r\n \u003C\/mvt:comment\u003E\r\n \u003Cmvt:do file\u003D\"g.Module_Root $ g.Store:currncy_mod:module\" name\u003D\"l.settings:item:formatted_complete_subtotal\" value\u003D\"CurrencyModule_AddFormatting\u0028g.Store:Currncy_mod, l.settings:item:complete_subtotal\u0029\"\/\u003E\r\n \u003Cspan class\u003D\"x-mini-basket__item-price\"\u003E\u0026mvt:item:formatted_complete_subtotal\u003B\u003C\/span\u003E\r\n \u003C\/div\u003E\r\n \u003C\/a\u003E\r\n \u003C\/div\u003E\r\n \u003Cmvt:foreach iterator\u003D\"discount\" array\u003D\"item:discounts\"\u003E\r\n \u003Cmvt:if expr\u003D\"l.settings:discount:display\"\u003E\r\n \u003Cmvt:assign name\u003D\"l.settings:total_savings\" value\u003D\"l.settings:total_savings + l.settings:discount:discount\" \/\u003E\r\n \u003C\/mvt:if\u003E\r\n \u003C\/mvt:foreach\u003E\r\n \u003C\/mvt:foreach\u003E\r\n \u003C\/div\u003E\r\n \u003Cfooter class\u003D\"x-mini-basket__footer\"\u003E\r\n \u003Cdiv class\u003D\"x-mini-basket__footer-breakdown\"\u003E\r\n \u003Cmvt:comment\u003E \u003Cmvt:if expr\u003D\"miva_array_elements\u0028 l.settings:global_minibasket:charges \u0029 GE 1\"\u003E\r\n \u003Cdiv class\u003D\"x-mini-basket__charges\"\u003E\r\n \u003Cmvt:foreach iterator\u003D\"charge\" array\u003D\"global_minibasket:charges\"\u003E\r\n \u003Cdiv class\u003D\"x-mini-basket__charge-item\"\u003E\r\n \u003Cspan class\u003D\"u-text-uppercase\"\u003E\u0026mvt:charge:descrip\u003B\u003C\/span\u003E\r\n \u003Cspan\u003E\u0026mvt:charge:formatted_disp_amt\u003B\u003C\/span\u003E\r\n \u003C\/div\u003E\r\n \u003C\/mvt:foreach\u003E\r\n \u003C\/div\u003E\r\n \u003C\/mvt:if\u003E \u003C\/mvt:comment\u003E\r\n \u003Cmvt:if expr\u003D\"l.settings:total_savings GE 1\"\u003E\r\n \u003Cdiv class\u003D\"x-mini-basket__total h2 u-color-green\"\u003E\r\n \u003Cdiv\u003E\r\n \u003Cspan\u003EProduct Savings\u003C\/span\u003E\r\n \u003Cspan\u003E\u003Cmvt:eval expr\u003D\"\u0027-$\u0027 $ l.settings:total_savings ROUND 2\" \/\u003E\u003C\/span\u003E\r\n \u003C\/div\u003E\r\n \u003C\/div\u003E\r\n \u003C\/mvt:if\u003E\r\n \u003Cdiv class\u003D\"x-mini-basket__total h2 u-color-primary\"\u003E\r\n \u003Cdiv\u003E\r\n \u003Cspan\u003ESubtotal\u003C\/span\u003E\r\n \u003Cspan\u003E\u0026mvt:global_minibasket:formatted_total\u003B\u003C\/span\u003E\r\n \u003C\/div\u003E\r\n \u003C\/div\u003E\r\n \u003C\/div\u003E\r\n \u003Cmvt:comment\u003E\r\n \u003C\u0021--\u003Cdiv class\u003D\"x-mini-basket__actions\"\u003E\r\n \u003Ca class\u003D\"button button\u0026\u002345\u003B\u0026\u002345\u003Bquaternary button\u0026\u002345\u003B\u0026\u002345\u003Bsmall\" href\u003D\"\u0026mvte:urls:BASK:auto\u003B\"\u003EView \/ Edit Cart\u003C\/a\u003E\r\n \u003C\/div\u003E\r\n \u003Cdiv class\u003D\"text-center\"\u003E\r\n \u003Cbutton class\u003D\"button button\u0026\u002345\u003B\u0026\u002345\u003Bunstyled\" data-hook\u003D\"close-mini-basket\"\u003EContinue Shopping\u003C\/button\u003E\r\n \u003C\/div\u003E--\u003E\r\n \u003C\/mvt:comment\u003E\r\n \u003C\/footer\u003E\r\n \u003Cmvt:else\u003E\r\n \u003Cfooter class\u003D\"x-mini-basket__footer\"\u003E\r\n \u003Cdiv class\u003D\"x-messages x-messages--info\"\u003EYour Shopping Cart Is Empty\u003C\/div\u003E\r\n \u003C\/footer\u003E\r\n \u003C\/mvt:if\u003E\r\n\r\n \u003Cmvt:item name\u003D\"readytheme\" param\u003D\"contentsection\u0028 \u0027mini_basket_accessories\u0027 \u0029\" \/\u003E\r\n \u003C\/div\u003E\r\n \u003Cmvt:if expr\u003D\"NOT l.settings:global_minibasket:empty\"\u003E\r\n \u003Cdiv class\u003D\"x-mini-basket_footer text-center\"\u003E\r\n \u003Ca class\u003D\"button button--primary button--large-font\" href\u003D\"\u0026mvte:urls:OCST:secure\u003B\"\u003ECheckout\u003C\/a\u003E\r\n \u003C\/div\u003E\r\n \u003C\/mvt:if\u003E\r\n \u003C\/div\u003E\r\n\u003C\/section\u003E\r\n", "templ_id": 421, "user_id": 101 }, "result": 1 } }, "marketplaces": { "googleshopping": { "accountlist_load": { "accounts": [ { "expires": 1681513215, "id": 1, "merch_id": 2847606, "name": "Pipette.com", "ref_token": "1\/\/06I0q6CY0jmCVCgYIARAAGAYSNwF-L9IrpLIkuvQ3OXUlWeMVeZIbq272Zjk1cKUoK2qOvuE53FQOhQeDaWfJ9T14K51f4VNew3w", "token": "", "token_type": "", "url": "https:\/\/www.pipette.com" } ], "result": 1 }, "product_field_values": { "product": [ { "error_code": "MER-UTL-MP-GS-00038", "error_is_eof": 0, "error_message": "Failed to load Google Shopping product item settings", "fields": "", "result": 0 } ] }, "product_fields": { "fields": [ { "code": "googleshopping_item_id", "name": "Google Shopping: Item ID", "readonly": 1 }, { "code": "googleshopping_title", "name": "Google Shopping: Title" }, { "code": "googleshopping_condition", "name": "Google Shopping: Condition" }, { "code": "googleshopping_availability", "name": "Google Shopping: Availability" }, { "code": "googleshopping_description", "name": "Google Shopping: Description" }, { "code": "googleshopping_product_category", "name": "Google Shopping: Product Category" }, { "code": "googleshopping_item_number", "name": "Google Shopping: Item Number" }, { "code": "googleshopping_part_number", "name": "Google Shopping: Part Number" }, { "code": "googleshopping_brand", "name": "Google Shopping: Brand" }, { "code": "googleshopping_weight", "name": "Google Shopping: Weight" }, { "code": "googleshopping_sale_price", "name": "Google Shopping: Sale Price" }, { "code": "googleshopping_product_type", "name": "Google Shopping: Product Type" }, { "code": "googleshopping_expiration_date", "name": "Google Shopping: Expiration Date" }, { "code": "googleshopping_color", "name": "Google Shopping: Color" }, { "code": "googleshopping_material", "name": "Google Shopping: Material" }, { "code": "googleshopping_pattern", "name": "Google Shopping: Pattern" }, { "code": "googleshopping_gender", "name": "Google Shopping: Gender" }, { "code": "googleshopping_age_group", "name": "Google Shopping: Age Group" }, { "code": "googleshopping_item_size", "name": "Google Shopping: Size" }, { "code": "googleshopping_size_type", "name": "Google Shopping: Size Type" }, { "code": "googleshopping_size_system", "name": "Google Shopping: Size System" }, { "code": "googleshopping_adwords_redirect_url", "name": "Google Shopping: Adwords Redirect URL" }, { "code": "googleshopping_multipack", "name": "Google Shopping: Multipack" }, { "code": "googleshopping_is_bundled", "name": "Google Shopping: Bundled" }, { "code": "googleshopping_adult_product", "name": "Google Shopping: Adult Product" }, { "code": "googleshopping_custom_0", "name": "Google Shopping: Custom Label 0" }, { "code": "googleshopping_custom_1", "name": "Google Shopping: Custom Label 1" }, { "code": "googleshopping_custom_2", "name": "Google Shopping: Custom Label 2" }, { "code": "googleshopping_custom_3", "name": "Google Shopping: Custom Label 3" }, { "code": "googleshopping_custom_4", "name": "Google Shopping: Custom Label 4" }, { "code": "googleshopping_unit_value", "name": "Google Shopping: Unit Pricing Measure Value" }, { "code": "googleshopping_unit", "name": "Google Shopping: Unit Pricing Measure" }, { "code": "googleshopping_base_value", "name": "Google Shopping: Unit Pricing Base Measure Value" }, { "code": "googleshopping_base_unit", "name": "Google Shopping: Unit Pricing Base Measure" }, { "code": "googleshopping_ignore_product", "name": "Google Shopping: Ignore Product" }, { "code": "googleshopping_shipping_label", "name": "Google Shopping: Shipping Label" }, { "code": "googleshopping_gtin", "name": "Google Shopping: Global Trade Item Number" } ], "result": 37 } } }, "moduleandfeatures_load_code": { "avatax": { "module": { "active": 1, "api_ver": 9.08, "code": "avatax", "feature_array": [ "tax", "util", "data_store", "vis_store", "fields_prod", "vis_product", "fields_cust", "vis_cust", "not_order", "fields_ordr", "vis_order", "provision_store", "json", "log", "clientside", "copy_prod" ], "feature_count": 16, "feature_hash": { "clientside": 1, "copy_prod": 1, "data_store": 1, "fields_cust": 1, "fields_ordr": 1, "fields_prod": 1, "json": 1, "log": 1, "not_order": 1, "provision_store": 1, "tax": 1, "util": 1, "vis_cust": 1, "vis_order": 1, "vis_product": 1, "vis_store": 1 }, "id": 200, "module": "modules\/tax\/mvavatax.mvc", "name": "AvaTax", "priority": 0, "provider": "Miva Merchant", "refcount": 1, "version": 10.07 }, "result": 1 }, "baskinv": { "module": { "active": 1, "api_ver": 5.72, "code": "baskinv", "feature_array": [ "util", "vis_product", "fields_prod", "fields_prod_map" ], "feature_count": 4, "feature_hash": { "fields_prod": 1, "fields_prod_map": 1, "util": 1, "vis_product": 1 }, "id": 149, "module": "modules\/util\/baskinv.mvc", "name": "Basket Inventory", "priority": 0, "provider": "Miva Merchant", "refcount": 1, "version": 10 }, "result": 1 }, "cmp-cssui-pchdft": { "module": { "active": 1, "api_ver": 5.72, "code": "cmp-cssui-pchdft", "feature_array": [ "component", "vis_product", "vis_category", "provision_store", "skins", "fields_prod", "fields_cat", "copy_prod" ], "feature_count": 8, "feature_hash": { "component": 1, "copy_prod": 1, "fields_cat": 1, "fields_prod": 1, "provision_store": 1, "skins": 1, "vis_category": 1, "vis_product": 1 }, "id": 33, "module": "modules\/component\/cmp-cssui-pchdft.mvc", "name": "CSSUI Product\/Category Header \u0026 Footer", "priority": 0, "provider": "Miva Merchant", "refcount": 1, "version": 10.08 }, "result": 1 }, "cmp-mv-prodctgy-meta": { "module": { "active": 1, "api_ver": 10.08, "code": "cmp-mv-prodctgy-meta", "feature_array": [ "component", "data_store", "vis_category", "vis_product", "fields_prod", "vis_store", "fields_cat", "not_prod", "not_cat", "json", "clientside", "clientside_sri", "provision_store", "copy_prod", "fields_page" ], "feature_count": 15, "feature_hash": { "clientside": 1, "clientside_sri": 1, "component": 1, "copy_prod": 1, "data_store": 1, "fields_cat": 1, "fields_page": 1, "fields_prod": 1, "json": 1, "not_cat": 1, "not_prod": 1, "provision_store": 1, "vis_category": 1, "vis_product": 1, "vis_store": 1 }, "id": 60, "module": "modules\/component\/cmp-mv-prodctgy-meta.mvc", "name": "Product\/Category META-Tag Settings", "priority": 0, "provider": "Miva Merchant", "refcount": 1, "version": 10.08 }, "result": 1 }, "customfields": { "module": { "active": 1, "api_ver": 10.08, "code": "customfields", "feature_array": [ "util", "vis_util", "vis_category", "not_cat", "fields_cat", "fields_cat_map", "vis_product", "not_prod", "fields_prod", "fields_prod_map", "vis_cust", "not_cust", "fields_cust", "fields_cust_map", "data_store", "provision_store", "component", "clientside", "clientside_sri", "json", "fulfill", "vis_order", "not_order", "fields_ordr", "fields_ordr_map", "not_search", "prod_facet", "upload", "copy_prod", "fields_page", "not_page" ], "feature_count": 31, "feature_hash": { "clientside": 1, "clientside_sri": 1, "component": 1, "copy_prod": 1, "data_store": 1, "fields_cat": 1, "fields_cat_map": 1, "fields_cust": 1, "fields_cust_map": 1, "fields_ordr": 1, "fields_ordr_map": 1, "fields_page": 1, "fields_prod": 1, "fields_prod_map": 1, "fulfill": 1, "json": 1, "not_cat": 1, "not_cust": 1, "not_order": 1, "not_page": 1, "not_prod": 1, "not_search": 1, "prod_facet": 1, "provision_store": 1, "upload": 1, "util": 1, "vis_category": 1, "vis_cust": 1, "vis_order": 1, "vis_product": 1, "vis_util": 1 }, "id": 151, "module": "modules\/util\/customfld.mvc", "name": "Custom Fields", "priority": 0, "provider": "Miva Merchant", "refcount": 1, "version": 10.08 }, "result": 1 }, "discount_saleprice": { "module": { "active": 1, "api_ver": 10, "code": "discount_saleprice", "feature_array": [ "data_store", "discount", "vis_product", "not_prod", "fields_prod", "provision_store", "json", "clientside", "clientside_sri", "copy_prod" ], "feature_count": 10, "feature_hash": { "clientside": 1, "clientside_sri": 1, "copy_prod": 1, "data_store": 1, "discount": 1, "fields_prod": 1, "json": 1, "not_prod": 1, "provision_store": 1, "vis_product": 1 }, "id": 82, "module": "modules\/discount\/saleprice.mvc", "name": "Specific Sale Price", "priority": 0, "provider": "Miva Merchant", "refcount": 1, "version": 10.08 }, "result": 1 }, "marketplaces": { "module": { "active": 1, "api_ver": 9.05, "code": "marketplaces", "feature_array": [ "data_store", "util", "vis_util", "vis_product", "vis_order", "vis_cust", "clientside", "clientside_sri", "json", "not_order", "not_ordershpmnt", "not_orderitem", "not_prod", "not_cust", "not_image", "provision_store", "fulfill", "payment", "scheduledtask", "fields_prod", "fields_prod_map", "cleanup_store" ], "feature_count": 22, "feature_hash": { "cleanup_store": 1, "clientside": 1, "clientside_sri": 1, "data_store": 1, "fields_prod": 1, "fields_prod_map": 1, "fulfill": 1, "json": 1, "not_cust": 1, "not_image": 1, "not_order": 1, "not_orderitem": 1, "not_ordershpmnt": 1, "not_prod": 1, "payment": 1, "provision_store": 1, "scheduledtask": 1, "util": 1, "vis_cust": 1, "vis_order": 1, "vis_product": 1, "vis_util": 1 }, "id": 153, "module": "modules\/util\/marketplaces.mvc", "name": "Marketplaces", "priority": 0, "provider": "Miva Merchant", "refcount": 1, "version": 10.08 }, "result": 1 }, "mvfedexsoap": { "module": { "active": 1, "api_ver": 5.72, "code": "mvfedexsoap", "feature_array": [ "shipping", "vis_shipping", "shipping_label", "provision_store", "data_store", "externalreq", "vis_product", "fields_prod", "not_prod", "util", "json", "clientside", "clientside_sri", "copy_prod" ], "feature_count": 14, "feature_hash": { "clientside": 1, "clientside_sri": 1, "copy_prod": 1, "data_store": 1, "externalreq": 1, "fields_prod": 1, "json": 1, "not_prod": 1, "provision_store": 1, "shipping": 1, "shipping_label": 1, "util": 1, "vis_product": 1, "vis_shipping": 1 }, "id": 137, "module": "modules\/shipping\/mvfedexsoap.mvc", "name": "FedEx Web Services", "priority": 0, "provider": "Miva Merchant", "refcount": 1, "version": 10.0102 }, "result": 1 }, "productdigitaldownloadcustomfields": { "module": { "active": 1, "api_ver": 5.72, "code": "productdigitaldownloadcustomfields", "feature_array": [ "util", "fields_prod", "fields_prod_map" ], "feature_count": 3, "feature_hash": { "fields_prod": 1, "fields_prod_map": 1, "util": 1 }, "id": 157, "module": "modules\/util\/productdigitaldownloadcustomfields.mvc", "name": "Product Digital Download Custom Fields", "priority": 0, "provider": "Miva Merchant", "refcount": 1, "version": 10 }, "result": 1 }, "productimagecustomfields": { "module": { "active": 1, "api_ver": 5, "code": "productimagecustomfields", "feature_array": [ "util", "fields_prod" ], "feature_count": 2, "feature_hash": { "fields_prod": 1, "util": 1 }, "id": 158, "module": "modules\/util\/productimagecustomfields.mvc", "name": "Product Image Custom Fields", "priority": 0, "provider": "Miva Merchant", "refcount": 1, "version": 10 }, "result": 1 }, "relprodcustomfields": { "module": { "active": 1, "api_ver": 9.08, "code": "relprodcustomfields", "feature_array": [ "util", "fields_prod" ], "feature_count": 2, "feature_hash": { "fields_prod": 1, "util": 1 }, "id": 180, "module": "modules\/util\/relprodcustomfields.mvc", "name": "Related Product Custom Fields", "priority": 0, "provider": "Miva Merchant", "refcount": 1, "version": 1 }, "result": 1 }, "tgreviews": { "module": { "active": 1, "api_ver": 10, "code": "tgreviews", "feature_array": [ "data_store", "system", "vis_system", "json", "clientside", "component", "fields_prod", "not_prod", "fulfill", "scheduledtask", "vis_product", "export", "import", "json_api", "prod_facet" ], "feature_count": 15, "feature_hash": { "clientside": 1, "component": 1, "data_store": 1, "export": 1, "fields_prod": 1, "fulfill": 1, "import": 1, "json": 1, "json_api": 1, "not_prod": 1, "prod_facet": 1, "scheduledtask": 1, "system": 1, "vis_product": 1, "vis_system": 1 }, "id": 181, "module": "modules\/system\/tgreviews.mvc", "name": "Product Reviews", "priority": 0, "provider": "Tess Guefen", "refcount": 1, "version": 2.012 }, "result": 1 } }, "moduleandfeatures_load_id": [ { "module": { "active": 1, "api_ver": 5.72, "code": "cmp-cssui-pchdft", "feature_array": [ "component", "vis_product", "vis_category", "provision_store", "skins", "fields_prod", "fields_cat", "copy_prod" ], "feature_count": 8, "feature_hash": { "component": 1, "copy_prod": 1, "fields_cat": 1, "fields_prod": 1, "provision_store": 1, "skins": 1, "vis_category": 1, "vis_product": 1 }, "id": 33, "module": "modules\/component\/cmp-cssui-pchdft.mvc", "name": "CSSUI Product\/Category Header \u0026 Footer", "priority": 0, "provider": "Miva Merchant", "refcount": 1, "version": 10.08 }, "result": 1 }, { "module": { "active": 1, "api_ver": 10.08, "code": "cmp-mv-prodctgy-meta", "feature_array": [ "component", "data_store", "vis_category", "vis_product", "fields_prod", "vis_store", "fields_cat", "not_prod", "not_cat", "json", "clientside", "clientside_sri", "provision_store", "copy_prod", "fields_page" ], "feature_count": 15, "feature_hash": { "clientside": 1, "clientside_sri": 1, "component": 1, "copy_prod": 1, "data_store": 1, "fields_cat": 1, "fields_page": 1, "fields_prod": 1, "json": 1, "not_cat": 1, "not_prod": 1, "provision_store": 1, "vis_category": 1, "vis_product": 1, "vis_store": 1 }, "id": 60, "module": "modules\/component\/cmp-mv-prodctgy-meta.mvc", "name": "Product\/Category META-Tag Settings", "priority": 0, "provider": "Miva Merchant", "refcount": 1, "version": 10.08 }, "result": 1 }, { "module": { "active": 1, "api_ver": 10, "code": "discount_saleprice", "feature_array": [ "data_store", "discount", "vis_product", "not_prod", "fields_prod", "provision_store", "json", "clientside", "clientside_sri", "copy_prod" ], "feature_count": 10, "feature_hash": { "clientside": 1, "clientside_sri": 1, "copy_prod": 1, "data_store": 1, "discount": 1, "fields_prod": 1, "json": 1, "not_prod": 1, "provision_store": 1, "vis_product": 1 }, "id": 82, "module": "modules\/discount\/saleprice.mvc", "name": "Specific Sale Price", "priority": 0, "provider": "Miva Merchant", "refcount": 1, "version": 10.08 }, "result": 1 }, { "module": { "active": 1, "api_ver": 5.72, "code": "mvfedexsoap", "feature_array": [ "shipping", "vis_shipping", "shipping_label", "provision_store", "data_store", "externalreq", "vis_product", "fields_prod", "not_prod", "util", "json", "clientside", "clientside_sri", "copy_prod" ], "feature_count": 14, "feature_hash": { "clientside": 1, "clientside_sri": 1, "copy_prod": 1, "data_store": 1, "externalreq": 1, "fields_prod": 1, "json": 1, "not_prod": 1, "provision_store": 1, "shipping": 1, "shipping_label": 1, "util": 1, "vis_product": 1, "vis_shipping": 1 }, "id": 137, "module": "modules\/shipping\/mvfedexsoap.mvc", "name": "FedEx Web Services", "priority": 0, "provider": "Miva Merchant", "refcount": 1, "version": 10.0102 }, "result": 1 }, { "module": { "active": 1, "api_ver": 5.72, "code": "baskinv", "feature_array": [ "util", "vis_product", "fields_prod", "fields_prod_map" ], "feature_count": 4, "feature_hash": { "fields_prod": 1, "fields_prod_map": 1, "util": 1, "vis_product": 1 }, "id": 149, "module": "modules\/util\/baskinv.mvc", "name": "Basket Inventory", "priority": 0, "provider": "Miva Merchant", "refcount": 1, "version": 10 }, "result": 1 }, { "module": { "active": 1, "api_ver": 10.08, "code": "customfields", "feature_array": [ "util", "vis_util", "vis_category", "not_cat", "fields_cat", "fields_cat_map", "vis_product", "not_prod", "fields_prod", "fields_prod_map", "vis_cust", "not_cust", "fields_cust", "fields_cust_map", "data_store", "provision_store", "component", "clientside", "clientside_sri", "json", "fulfill", "vis_order", "not_order", "fields_ordr", "fields_ordr_map", "not_search", "prod_facet", "upload", "copy_prod", "fields_page", "not_page" ], "feature_count": 31, "feature_hash": { "clientside": 1, "clientside_sri": 1, "component": 1, "copy_prod": 1, "data_store": 1, "fields_cat": 1, "fields_cat_map": 1, "fields_cust": 1, "fields_cust_map": 1, "fields_ordr": 1, "fields_ordr_map": 1, "fields_page": 1, "fields_prod": 1, "fields_prod_map": 1, "fulfill": 1, "json": 1, "not_cat": 1, "not_cust": 1, "not_order": 1, "not_page": 1, "not_prod": 1, "not_search": 1, "prod_facet": 1, "provision_store": 1, "upload": 1, "util": 1, "vis_category": 1, "vis_cust": 1, "vis_order": 1, "vis_product": 1, "vis_util": 1 }, "id": 151, "module": "modules\/util\/customfld.mvc", "name": "Custom Fields", "priority": 0, "provider": "Miva Merchant", "refcount": 1, "version": 10.08 }, "result": 1 }, { "module": { "active": 1, "api_ver": 9.05, "code": "marketplaces", "feature_array": [ "data_store", "util", "vis_util", "vis_product", "vis_order", "vis_cust", "clientside", "clientside_sri", "json", "not_order", "not_ordershpmnt", "not_orderitem", "not_prod", "not_cust", "not_image", "provision_store", "fulfill", "payment", "scheduledtask", "fields_prod", "fields_prod_map", "cleanup_store" ], "feature_count": 22, "feature_hash": { "cleanup_store": 1, "clientside": 1, "clientside_sri": 1, "data_store": 1, "fields_prod": 1, "fields_prod_map": 1, "fulfill": 1, "json": 1, "not_cust": 1, "not_image": 1, "not_order": 1, "not_orderitem": 1, "not_ordershpmnt": 1, "not_prod": 1, "payment": 1, "provision_store": 1, "scheduledtask": 1, "util": 1, "vis_cust": 1, "vis_order": 1, "vis_product": 1, "vis_util": 1 }, "id": 153, "module": "modules\/util\/marketplaces.mvc", "name": "Marketplaces", "priority": 0, "provider": "Miva Merchant", "refcount": 1, "version": 10.08 }, "result": 1 }, { "module": { "active": 1, "api_ver": 5.72, "code": "productdigitaldownloadcustomfields", "feature_array": [ "util", "fields_prod", "fields_prod_map" ], "feature_count": 3, "feature_hash": { "fields_prod": 1, "fields_prod_map": 1, "util": 1 }, "id": 157, "module": "modules\/util\/productdigitaldownloadcustomfields.mvc", "name": "Product Digital Download Custom Fields", "priority": 0, "provider": "Miva Merchant", "refcount": 1, "version": 10 }, "result": 1 }, { "module": { "active": 1, "api_ver": 5, "code": "productimagecustomfields", "feature_array": [ "util", "fields_prod" ], "feature_count": 2, "feature_hash": { "fields_prod": 1, "util": 1 }, "id": 158, "module": "modules\/util\/productimagecustomfields.mvc", "name": "Product Image Custom Fields", "priority": 0, "provider": "Miva Merchant", "refcount": 1, "version": 10 }, "result": 1 }, { "module": { "active": 1, "api_ver": 9.08, "code": "relprodcustomfields", "feature_array": [ "util", "fields_prod" ], "feature_count": 2, "feature_hash": { "fields_prod": 1, "util": 1 }, "id": 180, "module": "modules\/util\/relprodcustomfields.mvc", "name": "Related Product Custom Fields", "priority": 0, "provider": "Miva Merchant", "refcount": 1, "version": 1 }, "result": 1 }, { "module": { "active": 1, "api_ver": 10, "code": "tgreviews", "feature_array": [ "data_store", "system", "vis_system", "json", "clientside", "component", "fields_prod", "not_prod", "fulfill", "scheduledtask", "vis_product", "export", "import", "json_api", "prod_facet" ], "feature_count": 15, "feature_hash": { "clientside": 1, "component": 1, "data_store": 1, "export": 1, "fields_prod": 1, "fulfill": 1, "import": 1, "json": 1, "json_api": 1, "not_prod": 1, "prod_facet": 1, "scheduledtask": 1, "system": 1, "vis_product": 1, "vis_system": 1 }, "id": 181, "module": "modules\/system\/tgreviews.mvc", "name": "Product Reviews", "priority": 0, "provider": "Tess Guefen", "refcount": 1, "version": 2.012 }, "result": 1 }, { "module": { "active": 1, "api_ver": 9.08, "code": "avatax", "feature_array": [ "tax", "util", "data_store", "vis_store", "fields_prod", "vis_product", "fields_cust", "vis_cust", "not_order", "fields_ordr", "vis_order", "provision_store", "json", "log", "clientside", "copy_prod" ], "feature_count": 16, "feature_hash": { "clientside": 1, "copy_prod": 1, "data_store": 1, "fields_cust": 1, "fields_ordr": 1, "fields_prod": 1, "json": 1, "log": 1, "not_order": 1, "provision_store": 1, "tax": 1, "util": 1, "vis_cust": 1, "vis_order": 1, "vis_product": 1, "vis_store": 1 }, "id": 200, "module": "modules\/tax\/mvavatax.mvc", "name": "AvaTax", "priority": 0, "provider": "Miva Merchant", "refcount": 1, "version": 10.07 }, "result": 1 } ], "mvfedexsoap": { "productoptions": { "alcohol": 0, "dry_ice": 0, "dryicewt": 0, "fclass": "", "fpackage": "", "insuredval": 1, "nonstdcont": 0, "product_id": 60574, "signature": 0 } }, "page_load_code_cached": { "CTGY": { "page": { "admin": 0, "cache": "never", "cacheset": "", "code": "CTGY", "id": 2, "layout": 0, "name": "Category Display", "secure": 1, "settings": { "attributemachine": { "dependency_resolution": "first", "displaydiscounts": 0, "enabled": 1, "inv_short": 0, "invalid_msg": "Please select a valid combination of attributes.", "missing_radio_msg": "\u003Cbr\u003EAn option must be selected for \u003Cb\u003E\u0025attribute_prompt\u0025\u003C\/b\u003E.", "missing_text_msg": "\u003Cbr\u003EA value must be entered for \u003Cb\u003E\u0025attribute_prompt\u0025\u003C\/b\u003E.", "predictdiscounts": 0, "preload": 1, "price": "base", "template_filename": "ctgy-attributemachine.mvc", "template_id": 555 }, "category_listing": { "additionalprice": "base", "advanced": 1, "b_height": 360, "b_width": 360, "button_add": 1, "button_buy": 1, "button_wish": 0, "col_num": 6, "col_sel": "D", "constrain": "B", "default_sort": "disp_order", "displaydiscounts": 0, "field_code": 1, "field_name": 1, "field_price": 1, "fields_custom": [ { "code": "prod_savings_color", "module": "customfields" }, { "code": "prod_savings_text", "module": "customfields" }, { "code": "promo_image", "module": "customfields" } ], "format": "X", "image": "T", "imagemachine_enabled": 0, "imagetypes": [ "main" ], "invmsg": "L", "items_per_page_filter": 0, "linkexcludecat": 0, "mode": "ctgy", "page_disp_count": 3, "per_page": 20, "predictdiscounts": 0, "price": "sale", "reverse_default_disp_order": 0, "sort_by": { "best": 1, "new": 1, "price": 1, "switch": 1 }, "template_filename": "ctgy-category_listing.mvc", "template_id": 48 }, "category_listing_imagemachine": { "closeup_active": 0, "closeup_close": "closeup_close_\u0025product_id\u0025", "closeup_div": "closeup_div_\u0025product_id\u0025", "closeup_height": 500, "closeup_image": "closeup_image_\u0025product_id\u0025", "closeup_size": "N", "closeup_width": 500, "enabled": 0, "image_height": 144, "image_size": "B", "image_width": 234, "legacy_image": "T", "main_image": "main_image_\u0025product_id\u0025", "preload": 0, "thumb_active": 1, "thumb_height": 42, "thumb_width": 42, "thumbnails": "thumbnails_\u0025product_id\u0025" }, "facets": { "b_height": 234, "b_width": 234, "button_add": 1, "button_buy": 1, "button_wish": 0, "col_num": 2, "constrain": "B", "default_sort": "disp_order", "displaydiscounts": 0, "field_code": 1, "field_desc": 0, "field_name": 1, "field_price": 1, "field_sku": 0, "format": "X", "image": "T", "invmsg": "L", "items_per_page_filter": 1, "linkexcludecat": 1, "mode": "ctgy", "page_disp_count": 3, "per_page": 10, "predictdiscounts": 0, "price": "base", "reverse_default_disp_order": 0, "sort_by": { "best": 1, "code": 0, "name": 0, "new": 1, "old": 1, "price": 1, "switch": 1, "updated": 0 } }, "hdft": { "footer": { "template_filename": "ctgy-footer.mvc", "template_id": 47 }, "header": { "template_filename": "ctgy-header.mvc", "template_id": 46 } }, "product_attributes": { "template_filename": "ctgy-product_attributes.mvc" }, "seo_settings": { "cat_lit": "category", "cat_lit_choice": "category", "plit_in_bc": 0, "prod_lit": "product", "prod_lit_choice": "product", "sc_always": 0, "sf_active": 0, "sl_active": 0, "sm_active": 1, "suffix": "html", "suffix_choice": "html", "surlprefix": "https:\/\/pipette.mivamerchant.net\/", "url_delim": "\/", "urlprefix": "http:\/\/pipette.mivamerchant.net\/" }, "tgreviews": { "b_height": 75, "b_width": 75, "constrain": "B", "default_sort": "id_desc", "items_per_page_filter": 1, "page_disp_count": 3, "per_page": 10, "predictdiscounts": 0, "price": "base", "reverse_default_disp_order": 0 } }, "templ_id": 45, "title": "", "ui_id": 148, "user_id": 0, "version_id": 2, "xref_id": 2 }, "result": 1 }, "PROD": { "page": { "admin": 0, "cache": "never", "cacheset": "", "code": "PROD", "id": 5, "layout": 0, "name": "Product Display", "secure": 1, "settings": { "attributemachine": { "additional_price_element_id": "price-value-additional", "additionalprice": "base", "dependency_resolution": "first", "discount_element_id": "product-discountss", "displaydiscounts": 1, "enabled": 1, "inv_element_id": "inventory-message", "inv_short": 0, "invalid_msg": "Please select a valid combination of attributes.", "missing_radio_msg": "\u003Cbr\u003EAn option must be selected for \u003Cb\u003E\u0025attribute_prompt\u0025\u003C\/b\u003E.", "missing_text_msg": "\u003Cbr\u003EA value must be entered for \u003Cb\u003E\u0025attribute_prompt\u0025\u003C\/b\u003E.", "predictdiscounts": 1, "preload": 0, "price": "sale", "price_element_id": "price-value", "swatch_element_id": "swatches", "template_filename": "prod-attributemachine.mvc", "template_id": 58 }, "discount_volume": { "template_filename": "prod-discount_volume.mvc", "template_id": 443 }, "hdft": { "footer": { "template_filename": "prod-footer.mvc", "template_id": 61 }, "header": { "template_filename": "prod-header.mvc", "template_id": 60 } }, "product_attributes": { "template_filename": "prod-product_attributes.mvc", "template_id": 63 }, "product_display": { "additionalprice": "base", "advanced": 1, "b_height": 274, "b_width": 274, "button_wish": 1, "button_wish_nodisable": 1, "constrain": "B", "displaydiscounts": 1, "field_code": 1, "field_desc": 1, "field_name": 1, "field_price": 1, "field_sku": 0, "field_weight": 1, "fields_custom": [ { "code": "accessories", "module": "customfields" }, { "code": "product_accessories", "module": "customfields" }, { "code": "additives", "module": "customfields" }, { "code": "air_displacement", "module": "customfields" }, { "code": "autoclave", "module": "customfields" }, { "code": "autoclavable", "module": "customfields" }, { "code": "automation", "module": "customfields" }, { "code": "from_addr1", "module": "avatax" }, { "code": "from_addr2", "module": "avatax" }, { "code": "from_city", "module": "avatax" }, { "code": "from_cntry", "module": "avatax" }, { "code": "from_state", "module": "avatax" }, { "code": "from_zip", "module": "avatax" }, { "code": "use_from", "module": "avatax" }, { "code": "taxcode", "module": "avatax" }, { "code": "basket_inv", "module": "baskinv" }, { "code": "beaded_cuff", "module": "customfields" }, { "code": "cap_lid", "module": "customfields" }, { "code": "capacity", "module": "customfields" }, { "code": "cell_culture", "module": "customfields" }, { "code": "g_force", "module": "customfields" }, { "code": "closure_type", "module": "customfields" }, { "code": "color", "module": "customfields" }, { "code": "condition", "module": "customfields" }, { "code": "cryogenic", "module": "customfields" }, { "code": "bucket", "module": "productdigitaldownloadcustomfields" }, { "code": "file", "module": "productdigitaldownloadcustomfields" }, { "code": "region", "module": "productdigitaldownloadcustomfields" }, { "code": "enabled", "module": "productdigitaldownloadcustomfields" }, { "code": "cdn_name", "module": "productdigitaldownloadcustomfields" }, { "code": "expiration", "module": "productdigitaldownloadcustomfields" }, { "code": "miva_name", "module": "productdigitaldownloadcustomfields" }, { "code": "miva_path", "module": "productdigitaldownloadcustomfields" }, { "code": "max_dl", "module": "productdigitaldownloadcustomfields" }, { "code": "displacement_type", "module": "customfields" }, { "code": "erp_category", "module": "customfields" }, { "code": "electronic", "module": "customfields" }, { "code": "extra_long", "module": "customfields" }, { "code": "tabs_features", "module": "customfields" }, { "code": "alcohol", "module": "mvfedexsoap" }, { "code": "fclass", "module": "mvfedexsoap" }, { "code": "fpackage", "module": "mvfedexsoap" }, { "code": "dry_ice", "module": "mvfedexsoap" }, { "code": "dryicewt", "module": "mvfedexsoap" }, { "code": "insuredval", "module": "mvfedexsoap" }, { "code": "nonstdcont", "module": "mvfedexsoap" }, { "code": "signature", "module": "mvfedexsoap" }, { "code": "filtered", "module": "customfields" }, { "code": "gel_loadin", "module": "customfields" }, { "code": "glove_material", "module": "customfields" }, { "code": "googleshopping_adult_product", "module": "marketplaces" }, { "code": "googleshopping_adwords_redirect_url", "module": "marketplaces" }, { "code": "googleshopping_age_group", "module": "marketplaces" }, { "code": "googleshopping_availability", "module": "marketplaces" }, { "code": "googleshopping_brand", "module": "marketplaces" }, { "code": "googleshopping_is_bundled", "module": "marketplaces" }, { "code": "googleshopping_color", "module": "marketplaces" }, { "code": "googleshopping_condition", "module": "marketplaces" }, { "code": "googleshopping_custom_0", "module": "marketplaces" }, { "code": "googleshopping_custom_1", "module": "marketplaces" }, { "code": "googleshopping_custom_2", "module": "marketplaces" }, { "code": "googleshopping_custom_3", "module": "marketplaces" }, { "code": "googleshopping_custom_4", "module": "marketplaces" }, { "code": "googleshopping_description", "module": "marketplaces" }, { "code": "googleshopping_expiration_date", "module": "marketplaces" }, { "code": "googleshopping_gender", "module": "marketplaces" }, { "code": "googleshopping_gtin", "module": "marketplaces" }, { "code": "googleshopping_ignore_product", "module": "marketplaces" }, { "code": "googleshopping_item_id", "module": "marketplaces" }, { "code": "googleshopping_item_number", "module": "marketplaces" }, { "code": "googleshopping_material", "module": "marketplaces" }, { "code": "googleshopping_multipack", "module": "marketplaces" }, { "code": "googleshopping_part_number", "module": "marketplaces" }, { "code": "googleshopping_pattern", "module": "marketplaces" }, { "code": "googleshopping_product_category", "module": "marketplaces" }, { "code": "googleshopping_product_type", "module": "marketplaces" }, { "code": "googleshopping_sale_price", "module": "marketplaces" }, { "code": "googleshopping_shipping_label", "module": "marketplaces" }, { "code": "googleshopping_item_size", "module": "marketplaces" }, { "code": "googleshopping_size_system", "module": "marketplaces" }, { "code": "googleshopping_size_type", "module": "marketplaces" }, { "code": "googleshopping_title", "module": "marketplaces" }, { "code": "googleshopping_base_unit", "module": "marketplaces" }, { "code": "googleshopping_base_value", "module": "marketplaces" }, { "code": "googleshopping_unit", "module": "marketplaces" }, { "code": "googleshopping_unit_value", "module": "marketplaces" }, { "code": "googleshopping_weight", "module": "marketplaces" }, { "code": "hematocrit", "module": "customfields" }, { "code": "main", "module": "productimagecustomfields" }, { "code": "load_capacity", "module": "customfields" }, { "code": "low_retention", "module": "customfields" }, { "code": "description", "module": "cmp-mv-prodctgy-meta" }, { "code": "keywords", "module": "cmp-mv-prodctgy-meta" }, { "code": "CSD_MSRP", "module": "customfields" }, { "code": "macro_tips", "module": "customfields" }, { "code": "tabs_manuals", "module": "customfields" }, { "code": "manufacturer", "module": "customfields" }, { "code": "ManufacturerPartNumber", "module": "customfields" }, { "code": "material", "module": "customfields" }, { "code": "max_speed", "module": "customfields" }, { "code": "max_tube_diameter", "module": "customfields" }, { "code": "max_tube_size", "module": "customfields" }, { "code": "max_volume", "module": "customfields" }, { "code": "min_volume", "module": "customfields" }, { "code": "non_manufacturer_direct", "module": "customfields" }, { "code": "channels", "module": "customfields" }, { "code": "tabs_overview", "module": "customfields" }, { "code": "pcr", "module": "customfields" }, { "code": "parent_code", "module": "customfields" }, { "code": "parent-product", "module": "customfields" }, { "code": "pipette_type", "module": "customfields" }, { "code": "positive_displacement_pipettes", "module": "customfields" }, { "code": "power_source", "module": "customfields" }, { "code": "prod_savings_color", "module": "customfields" }, { "code": "prod_savings_text", "module": "customfields" }, { "code": "prod_depth", "module": "customfields" }, { "code": "footer", "module": "cmp-cssui-pchdft" }, { "code": "header", "module": "cmp-cssui-pchdft" }, { "code": "prod_height", "module": "customfields" }, { "code": "tgr_rating", "module": "tgreviews" }, { "code": "tgr_review_count", "module": "tgreviews" }, { "code": "prod_width", "module": "customfields" }, { "code": "promo_image", "module": "customfields" }, { "code": "promo_ctgy", "module": "customfields" }, { "code": "quantity", "module": "customfields" }, { "code": "recirculating", "module": "customfields" }, { "code": "refrigerated", "module": "customfields" }, { "code": "related_product_category", "module": "customfields" }, { "code": "relprod_code", "module": "relprodcustomfields" }, { "code": "relprod_sku", "module": "relprodcustomfields" }, { "code": "rotor_type", "module": "customfields" }, { "code": "specific_sale_price", "module": "discount_saleprice" }, { "code": "sample", "module": "customfields" }, { "code": "shape", "module": "customfields" }, { "code": "short_description", "module": "customfields" }, { "code": "show_tips_comp_link", "module": "customfields" }, { "code": "size", "module": "customfields" }, { "code": "specific_sale_price", "module": "customfields" }, { "code": "sterile", "module": "customfields" }, { "code": "tabs_technical_specs", "module": "customfields" }, { "code": "textured", "module": "customfields" }, { "code": "total_inv", "module": "baskinv" }, { "code": "unit_of_measure", "module": "customfields" }, { "code": "use_pjson", "module": "customfields" }, { "code": "tabs_videos", "module": "customfields" }, { "code": "voltage", "module": "customfields" }, { "code": "volume_type", "module": "customfields" }, { "code": "fixed_variable", "module": "customfields" }, { "code": "wide_bore", "module": "customfields" }, { "code": "wells", "module": "customfields" } ], "image": "F", "imagemachine_enabled": 1, "invmsg": "L", "predictdiscounts": 1, "price": "sale", "template_filename": "prod-product_display.mvc", "template_id": 62 }, "product_display_imagemachine": { "closeup_active": 0, "closeup_close": "closeup_close", "closeup_div": "closeup_div", "closeup_height": 960, "closeup_image": "closeup_image", "closeup_size": "N", "closeup_width": 960, "enabled": 1, "head": { "template_filename": "prod-product_display_imagemachine-head.mvc", "template_id": 59 }, "image_height": 640, "image_size": "B", "image_width": 640, "legacy_image": "N", "main_image": "main_image", "preload": 1, "thumb_active": 1, "thumb_height": 80, "thumb_width": 80, "thumbnails": "thumbnails" }, "related_products": { "additionalprice": "base", "advanced": 1, "b_height": 360, "b_width": 360, "button_add": 1, "button_buy": 1, "col_num": 2, "col_sel": "D", "constrain": "B", "default_sort": "disp_order", "displaydiscounts": 0, "field_code": 1, "field_desc": 0, "field_name": 1, "field_price": 1, "field_sku": 0, "field_weight": 0, "format": "X", "image": "T", "imagemachine_enabled": 0, "imagetypes": [ "main" ], "invmsg": "L", "items_per_page_filter": 0, "linkexcludecat": 0, "mode": "relp", "page_disp_count": 0, "per_page": 0, "predictdiscounts": 1, "price": "sale", "reverse_default_disp_order": 0, "sort_by": { "best": 1, "code": 0, "name": 0, "new": 1, "price": 1, "switch": 0 }, "template_filename": "prod-related_products.mvc", "template_id": 64 }, "related_products_imagemachine": { "closeup_active": 0, "closeup_close": "closeup_close_\u0025product_id\u0025", "closeup_div": "closeup_div_\u0025product_id\u0025", "closeup_height": 500, "closeup_image": "closeup_image_\u0025product_id\u0025", "closeup_size": "N", "closeup_width": 500, "enabled": 0, "image_height": 144, "image_size": "B", "image_width": 234, "legacy_image": "T", "main_image": "main_image_\u0025product_id\u0025", "preload": 0, "thumb_active": 1, "thumb_height": 42, "thumb_width": 42, "thumbnails": "thumbnails_\u0025product_id\u0025" }, "seo_settings": { "cat_lit": "category", "cat_lit_choice": "category", "plit_in_bc": 0, "prod_lit": "product", "prod_lit_choice": "product", "sc_always": 0, "sf_active": 0, "sl_active": 0, "sm_active": 1, "suffix": "html", "suffix_choice": "html", "surlprefix": "https:\/\/pipette.mivamerchant.net\/", "url_delim": "\/", "urlprefix": "http:\/\/pipette.mivamerchant.net\/" } }, "templ_id": 57, "title": "", "ui_id": 148, "user_id": 0, "version_id": 5, "xref_id": 5 }, "result": 1 }, "SFNT": { "page": { "admin": 0, "cache": "anonempty", "cacheset": "", "code": "SFNT", "id": 1, "layout": 0, "name": "Storefront", "secure": 1, "settings": { "combination_facets": { "template_filename": "sfnt-combination_facets.mvc", "template_id": 2204 }, "content": { "template_filename": "sfnt-content.mvc", "template_id": 44 }, "hdft": { "footer": { "template_filename": "sfnt-footer.mvc", "template_id": 43 }, "header": { "template_filename": "sfnt-header.mvc", "template_id": 42 } }, "seo_settings": { "cat_lit": "category", "cat_lit_choice": "category", "plit_in_bc": 0, "prod_lit": "product", "prod_lit_choice": "product", "sc_always": 0, "sf_active": 0, "sl_active": 0, "sm_active": 1, "suffix": "html", "suffix_choice": "html", "surlprefix": "https:\/\/pipette.mivamerchant.net\/", "url_delim": "\/", "urlprefix": "http:\/\/pipette.mivamerchant.net\/" } }, "templ_id": 41, "title": "", "ui_id": 148, "user_id": 0, "version_id": 1, "xref_id": 1 }, "result": 1 }, "SRCH": { "page": { "admin": 0, "cache": "anonempty", "cacheset": "", "code": "SRCH", "id": 3, "layout": 0, "name": "Search", "secure": 1, "settings": { "facets": { "display": "automatic" }, "hdft": { "footer": { "template_filename": "srch-footer.mvc", "template_id": 51 }, "header": { "template_filename": "srch-header.mvc", "template_id": 50 } }, "search_results": { "additionalprice": "base", "advanced": 1, "b_height": 323, "b_width": 323, "button_add": 1, "button_buy": 1, "col_num": 2, "col_sel": "D", "constrain": "B", "default_sort": "disp_order", "displaydiscounts": 0, "field_code": 1, "field_desc": 0, "field_name": 1, "field_price": 1, "field_sku": 0, "field_weight": 0, "fields_custom": [ { "code": "accessories", "module": "customfields" }, { "code": "product_accessories", "module": "customfields" }, { "code": "additives", "module": "customfields" }, { "code": "air_displacement", "module": "customfields" }, { "code": "autoclave", "module": "customfields" }, { "code": "autoclavable", "module": "customfields" }, { "code": "automation", "module": "customfields" }, { "code": "basket_inv", "module": "baskinv" }, { "code": "beaded_cuff", "module": "customfields" }, { "code": "cap_lid", "module": "customfields" }, { "code": "capacity", "module": "customfields" }, { "code": "cell_culture", "module": "customfields" }, { "code": "g_force", "module": "customfields" }, { "code": "closure_type", "module": "customfields" }, { "code": "color", "module": "customfields" }, { "code": "condition", "module": "customfields" }, { "code": "cryogenic", "module": "customfields" }, { "code": "bucket", "module": "productdigitaldownloadcustomfields" }, { "code": "file", "module": "productdigitaldownloadcustomfields" }, { "code": "region", "module": "productdigitaldownloadcustomfields" }, { "code": "enabled", "module": "productdigitaldownloadcustomfields" }, { "code": "cdn_name", "module": "productdigitaldownloadcustomfields" }, { "code": "expiration", "module": "productdigitaldownloadcustomfields" }, { "code": "miva_name", "module": "productdigitaldownloadcustomfields" }, { "code": "miva_path", "module": "productdigitaldownloadcustomfields" }, { "code": "max_dl", "module": "productdigitaldownloadcustomfields" }, { "code": "displacement_type", "module": "customfields" }, { "code": "electronic", "module": "customfields" }, { "code": "extra_long", "module": "customfields" }, { "code": "tabs_features", "module": "customfields" }, { "code": "filtered", "module": "customfields" }, { "code": "gel_loadin", "module": "customfields" }, { "code": "glove_material", "module": "customfields" }, { "code": "hematocrit", "module": "customfields" }, { "code": "main", "module": "productimagecustomfields" }, { "code": "load_capacity", "module": "customfields" }, { "code": "low_retention", "module": "customfields" }, { "code": "description", "module": "cmp-mv-prodctgy-meta" }, { "code": "keywords", "module": "cmp-mv-prodctgy-meta" }, { "code": "macro_tips", "module": "customfields" }, { "code": "tabs_manuals", "module": "customfields" }, { "code": "manufacturer", "module": "customfields" }, { "code": "material", "module": "customfields" }, { "code": "max_speed", "module": "customfields" }, { "code": "max_tube_diameter", "module": "customfields" }, { "code": "max_tube_size", "module": "customfields" }, { "code": "max_volume", "module": "customfields" }, { "code": "min_volume", "module": "customfields" }, { "code": "channels", "module": "customfields" }, { "code": "tabs_overview", "module": "customfields" }, { "code": "pcr", "module": "customfields" }, { "code": "pipette_type", "module": "customfields" }, { "code": "positive_displacement_pipettes", "module": "customfields" }, { "code": "power_source", "module": "customfields" }, { "code": "prod_savings_color", "module": "customfields" }, { "code": "prod_savings_text", "module": "customfields" }, { "code": "prod_depth", "module": "customfields" }, { "code": "footer", "module": "cmp-cssui-pchdft" }, { "code": "header", "module": "cmp-cssui-pchdft" }, { "code": "prod_height", "module": "customfields" }, { "code": "tgr_rating", "module": "tgreviews" }, { "code": "tgr_review_count", "module": "tgreviews" }, { "code": "prod_width", "module": "customfields" }, { "code": "promo_image", "module": "customfields" }, { "code": "promo_ctgy", "module": "customfields" }, { "code": "quantity", "module": "customfields" }, { "code": "recirculating", "module": "customfields" }, { "code": "refrigerated", "module": "customfields" }, { "code": "relprod_code", "module": "relprodcustomfields" }, { "code": "relprod_sku", "module": "relprodcustomfields" }, { "code": "rotor_type", "module": "customfields" }, { "code": "sample", "module": "customfields" }, { "code": "shape", "module": "customfields" }, { "code": "short_description", "module": "customfields" }, { "code": "size", "module": "customfields" }, { "code": "sterile", "module": "customfields" }, { "code": "tabs_technical_specs", "module": "customfields" }, { "code": "textured", "module": "customfields" }, { "code": "total_inv", "module": "baskinv" }, { "code": "unit_of_measure", "module": "customfields" }, { "code": "tabs_videos", "module": "customfields" }, { "code": "voltage", "module": "customfields" }, { "code": "volume_type", "module": "customfields" }, { "code": "fixed_variable", "module": "customfields" }, { "code": "wide_bore", "module": "customfields" }, { "code": "wells", "module": "customfields" } ], "format": "X", "image": "T", "imagemachine_enabled": 0, "imagetypes": [ "main" ], "invmsg": "L", "items_per_page_filter": 0, "linkexcludecat": 0, "mode": "srch", "page_disp_count": 3, "per_page": 15, "predictdiscounts": 1, "price": "sale", "reverse_default_disp_order": 0, "sort_by": { "best": 1, "code": 0, "name": 0, "new": 1, "price": 1, "switch": 1 }, "template_filename": "srch-search_results.mvc", "template_id": 52 }, "search_results_imagemachine": { "closeup_active": 0, "closeup_close": "closeup_close_\u0025product_id\u0025", "closeup_div": "closeup_div_\u0025product_id\u0025", "closeup_height": 500, "closeup_image": "closeup_image_\u0025product_id\u0025", "closeup_size": "N", "closeup_width": 500, "enabled": 0, "image_height": 144, "image_size": "B", "image_width": 234, "legacy_image": "T", "main_image": "main_image_\u0025product_id\u0025", "preload": 0, "thumb_active": 1, "thumb_height": 42, "thumb_width": 42, "thumbnails": "thumbnails_\u0025product_id\u0025" }, "seo_settings": { "cat_lit": "category", "cat_lit_choice": "category", "plit_in_bc": 0, "prod_lit": "product", "prod_lit_choice": "product", "sc_always": 0, "sf_active": 0, "sl_active": 0, "sm_active": 1, "suffix": "html", "suffix_choice": "html", "surlprefix": "https:\/\/pipette.mivamerchant.net\/", "url_delim": "\/", "urlprefix": "http:\/\/pipette.mivamerchant.net\/" }, "tgreviews": { "b_height": 75, "b_width": 75, "constrain": "B", "default_sort": "id_desc", "items_per_page_filter": 1, "page_disp_count": 3, "per_page": 10, "predictdiscounts": 0, "price": "base", "reverse_default_disp_order": 0 } }, "templ_id": 49, "title": "", "ui_id": 148, "user_id": 0, "version_id": 3, "xref_id": 3 }, "result": 1 } }, "page_load_id_cached": [ { "page": { "admin": 0, "cache": "anonempty", "cacheset": "", "code": "SFNT", "id": 1, "layout": 0, "name": "Storefront", "secure": 1, "settings": { "combination_facets": { "template_filename": "sfnt-combination_facets.mvc", "template_id": 2204 }, "content": { "template_filename": "sfnt-content.mvc", "template_id": 44 }, "hdft": { "footer": { "template_filename": "sfnt-footer.mvc", "template_id": 43 }, "header": { "template_filename": "sfnt-header.mvc", "template_id": 42 } }, "seo_settings": { "cat_lit": "category", "cat_lit_choice": "category", "plit_in_bc": 0, "prod_lit": "product", "prod_lit_choice": "product", "sc_always": 0, "sf_active": 0, "sl_active": 0, "sm_active": 1, "suffix": "html", "suffix_choice": "html", "surlprefix": "https:\/\/pipette.mivamerchant.net\/", "url_delim": "\/", "urlprefix": "http:\/\/pipette.mivamerchant.net\/" } }, "templ_id": 41, "title": "", "ui_id": 148, "user_id": 0, "version_id": 1, "xref_id": 1 }, "result": 1 }, { "page": { "admin": 0, "cache": "never", "cacheset": "", "code": "CTGY", "id": 2, "layout": 0, "name": "Category Display", "secure": 1, "settings": { "attributemachine": { "dependency_resolution": "first", "displaydiscounts": 0, "enabled": 1, "inv_short": 0, "invalid_msg": "Please select a valid combination of attributes.", "missing_radio_msg": "\u003Cbr\u003EAn option must be selected for \u003Cb\u003E\u0025attribute_prompt\u0025\u003C\/b\u003E.", "missing_text_msg": "\u003Cbr\u003EA value must be entered for \u003Cb\u003E\u0025attribute_prompt\u0025\u003C\/b\u003E.", "predictdiscounts": 0, "preload": 1, "price": "base", "template_filename": "ctgy-attributemachine.mvc", "template_id": 555 }, "category_listing": { "additionalprice": "base", "advanced": 1, "b_height": 360, "b_width": 360, "button_add": 1, "button_buy": 1, "button_wish": 0, "col_num": 6, "col_sel": "D", "constrain": "B", "default_sort": "disp_order", "displaydiscounts": 0, "field_code": 1, "field_name": 1, "field_price": 1, "fields_custom": [ { "code": "prod_savings_color", "module": "customfields" }, { "code": "prod_savings_text", "module": "customfields" }, { "code": "promo_image", "module": "customfields" } ], "format": "X", "image": "T", "imagemachine_enabled": 0, "imagetypes": [ "main" ], "invmsg": "L", "items_per_page_filter": 0, "linkexcludecat": 0, "mode": "ctgy", "page_disp_count": 3, "per_page": 20, "predictdiscounts": 0, "price": "sale", "reverse_default_disp_order": 0, "sort_by": { "best": 1, "new": 1, "price": 1, "switch": 1 }, "template_filename": "ctgy-category_listing.mvc", "template_id": 48 }, "category_listing_imagemachine": { "closeup_active": 0, "closeup_close": "closeup_close_\u0025product_id\u0025", "closeup_div": "closeup_div_\u0025product_id\u0025", "closeup_height": 500, "closeup_image": "closeup_image_\u0025product_id\u0025", "closeup_size": "N", "closeup_width": 500, "enabled": 0, "image_height": 144, "image_size": "B", "image_width": 234, "legacy_image": "T", "main_image": "main_image_\u0025product_id\u0025", "preload": 0, "thumb_active": 1, "thumb_height": 42, "thumb_width": 42, "thumbnails": "thumbnails_\u0025product_id\u0025" }, "facets": { "b_height": 234, "b_width": 234, "button_add": 1, "button_buy": 1, "button_wish": 0, "col_num": 2, "constrain": "B", "default_sort": "disp_order", "displaydiscounts": 0, "field_code": 1, "field_desc": 0, "field_name": 1, "field_price": 1, "field_sku": 0, "format": "X", "image": "T", "invmsg": "L", "items_per_page_filter": 1, "linkexcludecat": 1, "mode": "ctgy", "page_disp_count": 3, "per_page": 10, "predictdiscounts": 0, "price": "base", "reverse_default_disp_order": 0, "sort_by": { "best": 1, "code": 0, "name": 0, "new": 1, "old": 1, "price": 1, "switch": 1, "updated": 0 } }, "hdft": { "footer": { "template_filename": "ctgy-footer.mvc", "template_id": 47 }, "header": { "template_filename": "ctgy-header.mvc", "template_id": 46 } }, "product_attributes": { "template_filename": "ctgy-product_attributes.mvc" }, "seo_settings": { "cat_lit": "category", "cat_lit_choice": "category", "plit_in_bc": 0, "prod_lit": "product", "prod_lit_choice": "product", "sc_always": 0, "sf_active": 0, "sl_active": 0, "sm_active": 1, "suffix": "html", "suffix_choice": "html", "surlprefix": "https:\/\/pipette.mivamerchant.net\/", "url_delim": "\/", "urlprefix": "http:\/\/pipette.mivamerchant.net\/" }, "tgreviews": { "b_height": 75, "b_width": 75, "constrain": "B", "default_sort": "id_desc", "items_per_page_filter": 1, "page_disp_count": 3, "per_page": 10, "predictdiscounts": 0, "price": "base", "reverse_default_disp_order": 0 } }, "templ_id": 45, "title": "", "ui_id": 148, "user_id": 0, "version_id": 2, "xref_id": 2 }, "result": 1 }, { "page": { "admin": 0, "cache": "anonempty", "cacheset": "", "code": "SRCH", "id": 3, "layout": 0, "name": "Search", "secure": 1, "settings": { "facets": { "display": "automatic" }, "hdft": { "footer": { "template_filename": "srch-footer.mvc", "template_id": 51 }, "header": { "template_filename": "srch-header.mvc", "template_id": 50 } }, "search_results": { "additionalprice": "base", "advanced": 1, "b_height": 323, "b_width": 323, "button_add": 1, "button_buy": 1, "col_num": 2, "col_sel": "D", "constrain": "B", "default_sort": "disp_order", "displaydiscounts": 0, "field_code": 1, "field_desc": 0, "field_name": 1, "field_price": 1, "field_sku": 0, "field_weight": 0, "fields_custom": [ { "code": "accessories", "module": "customfields" }, { "code": "product_accessories", "module": "customfields" }, { "code": "additives", "module": "customfields" }, { "code": "air_displacement", "module": "customfields" }, { "code": "autoclave", "module": "customfields" }, { "code": "autoclavable", "module": "customfields" }, { "code": "automation", "module": "customfields" }, { "code": "basket_inv", "module": "baskinv" }, { "code": "beaded_cuff", "module": "customfields" }, { "code": "cap_lid", "module": "customfields" }, { "code": "capacity", "module": "customfields" }, { "code": "cell_culture", "module": "customfields" }, { "code": "g_force", "module": "customfields" }, { "code": "closure_type", "module": "customfields" }, { "code": "color", "module": "customfields" }, { "code": "condition", "module": "customfields" }, { "code": "cryogenic", "module": "customfields" }, { "code": "bucket", "module": "productdigitaldownloadcustomfields" }, { "code": "file", "module": "productdigitaldownloadcustomfields" }, { "code": "region", "module": "productdigitaldownloadcustomfields" }, { "code": "enabled", "module": "productdigitaldownloadcustomfields" }, { "code": "cdn_name", "module": "productdigitaldownloadcustomfields" }, { "code": "expiration", "module": "productdigitaldownloadcustomfields" }, { "code": "miva_name", "module": "productdigitaldownloadcustomfields" }, { "code": "miva_path", "module": "productdigitaldownloadcustomfields" }, { "code": "max_dl", "module": "productdigitaldownloadcustomfields" }, { "code": "displacement_type", "module": "customfields" }, { "code": "electronic", "module": "customfields" }, { "code": "extra_long", "module": "customfields" }, { "code": "tabs_features", "module": "customfields" }, { "code": "filtered", "module": "customfields" }, { "code": "gel_loadin", "module": "customfields" }, { "code": "glove_material", "module": "customfields" }, { "code": "hematocrit", "module": "customfields" }, { "code": "main", "module": "productimagecustomfields" }, { "code": "load_capacity", "module": "customfields" }, { "code": "low_retention", "module": "customfields" }, { "code": "description", "module": "cmp-mv-prodctgy-meta" }, { "code": "keywords", "module": "cmp-mv-prodctgy-meta" }, { "code": "macro_tips", "module": "customfields" }, { "code": "tabs_manuals", "module": "customfields" }, { "code": "manufacturer", "module": "customfields" }, { "code": "material", "module": "customfields" }, { "code": "max_speed", "module": "customfields" }, { "code": "max_tube_diameter", "module": "customfields" }, { "code": "max_tube_size", "module": "customfields" }, { "code": "max_volume", "module": "customfields" }, { "code": "min_volume", "module": "customfields" }, { "code": "channels", "module": "customfields" }, { "code": "tabs_overview", "module": "customfields" }, { "code": "pcr", "module": "customfields" }, { "code": "pipette_type", "module": "customfields" }, { "code": "positive_displacement_pipettes", "module": "customfields" }, { "code": "power_source", "module": "customfields" }, { "code": "prod_savings_color", "module": "customfields" }, { "code": "prod_savings_text", "module": "customfields" }, { "code": "prod_depth", "module": "customfields" }, { "code": "footer", "module": "cmp-cssui-pchdft" }, { "code": "header", "module": "cmp-cssui-pchdft" }, { "code": "prod_height", "module": "customfields" }, { "code": "tgr_rating", "module": "tgreviews" }, { "code": "tgr_review_count", "module": "tgreviews" }, { "code": "prod_width", "module": "customfields" }, { "code": "promo_image", "module": "customfields" }, { "code": "promo_ctgy", "module": "customfields" }, { "code": "quantity", "module": "customfields" }, { "code": "recirculating", "module": "customfields" }, { "code": "refrigerated", "module": "customfields" }, { "code": "relprod_code", "module": "relprodcustomfields" }, { "code": "relprod_sku", "module": "relprodcustomfields" }, { "code": "rotor_type", "module": "customfields" }, { "code": "sample", "module": "customfields" }, { "code": "shape", "module": "customfields" }, { "code": "short_description", "module": "customfields" }, { "code": "size", "module": "customfields" }, { "code": "sterile", "module": "customfields" }, { "code": "tabs_technical_specs", "module": "customfields" }, { "code": "textured", "module": "customfields" }, { "code": "total_inv", "module": "baskinv" }, { "code": "unit_of_measure", "module": "customfields" }, { "code": "tabs_videos", "module": "customfields" }, { "code": "voltage", "module": "customfields" }, { "code": "volume_type", "module": "customfields" }, { "code": "fixed_variable", "module": "customfields" }, { "code": "wide_bore", "module": "customfields" }, { "code": "wells", "module": "customfields" } ], "format": "X", "image": "T", "imagemachine_enabled": 0, "imagetypes": [ "main" ], "invmsg": "L", "items_per_page_filter": 0, "linkexcludecat": 0, "mode": "srch", "page_disp_count": 3, "per_page": 15, "predictdiscounts": 1, "price": "sale", "reverse_default_disp_order": 0, "sort_by": { "best": 1, "code": 0, "name": 0, "new": 1, "price": 1, "switch": 1 }, "template_filename": "srch-search_results.mvc", "template_id": 52 }, "search_results_imagemachine": { "closeup_active": 0, "closeup_close": "closeup_close_\u0025product_id\u0025", "closeup_div": "closeup_div_\u0025product_id\u0025", "closeup_height": 500, "closeup_image": "closeup_image_\u0025product_id\u0025", "closeup_size": "N", "closeup_width": 500, "enabled": 0, "image_height": 144, "image_size": "B", "image_width": 234, "legacy_image": "T", "main_image": "main_image_\u0025product_id\u0025", "preload": 0, "thumb_active": 1, "thumb_height": 42, "thumb_width": 42, "thumbnails": "thumbnails_\u0025product_id\u0025" }, "seo_settings": { "cat_lit": "category", "cat_lit_choice": "category", "plit_in_bc": 0, "prod_lit": "product", "prod_lit_choice": "product", "sc_always": 0, "sf_active": 0, "sl_active": 0, "sm_active": 1, "suffix": "html", "suffix_choice": "html", "surlprefix": "https:\/\/pipette.mivamerchant.net\/", "url_delim": "\/", "urlprefix": "http:\/\/pipette.mivamerchant.net\/" }, "tgreviews": { "b_height": 75, "b_width": 75, "constrain": "B", "default_sort": "id_desc", "items_per_page_filter": 1, "page_disp_count": 3, "per_page": 10, "predictdiscounts": 0, "price": "base", "reverse_default_disp_order": 0 } }, "templ_id": 49, "title": "", "ui_id": 148, "user_id": 0, "version_id": 3, "xref_id": 3 }, "result": 1 }, { "page": { "admin": 0, "cache": "never", "cacheset": "", "code": "PROD", "id": 5, "layout": 0, "name": "Product Display", "secure": 1, "settings": { "attributemachine": { "additional_price_element_id": "price-value-additional", "additionalprice": "base", "dependency_resolution": "first", "discount_element_id": "product-discountss", "displaydiscounts": 1, "enabled": 1, "inv_element_id": "inventory-message", "inv_short": 0, "invalid_msg": "Please select a valid combination of attributes.", "missing_radio_msg": "\u003Cbr\u003EAn option must be selected for \u003Cb\u003E\u0025attribute_prompt\u0025\u003C\/b\u003E.", "missing_text_msg": "\u003Cbr\u003EA value must be entered for \u003Cb\u003E\u0025attribute_prompt\u0025\u003C\/b\u003E.", "predictdiscounts": 1, "preload": 0, "price": "sale", "price_element_id": "price-value", "swatch_element_id": "swatches", "template_filename": "prod-attributemachine.mvc", "template_id": 58 }, "discount_volume": { "template_filename": "prod-discount_volume.mvc", "template_id": 443 }, "hdft": { "footer": { "template_filename": "prod-footer.mvc", "template_id": 61 }, "header": { "template_filename": "prod-header.mvc", "template_id": 60 } }, "product_attributes": { "template_filename": "prod-product_attributes.mvc", "template_id": 63 }, "product_display": { "additionalprice": "base", "advanced": 1, "b_height": 274, "b_width": 274, "button_wish": 1, "button_wish_nodisable": 1, "constrain": "B", "displaydiscounts": 1, "field_code": 1, "field_desc": 1, "field_name": 1, "field_price": 1, "field_sku": 0, "field_weight": 1, "fields_custom": [ { "code": "accessories", "module": "customfields" }, { "code": "product_accessories", "module": "customfields" }, { "code": "additives", "module": "customfields" }, { "code": "air_displacement", "module": "customfields" }, { "code": "autoclave", "module": "customfields" }, { "code": "autoclavable", "module": "customfields" }, { "code": "automation", "module": "customfields" }, { "code": "from_addr1", "module": "avatax" }, { "code": "from_addr2", "module": "avatax" }, { "code": "from_city", "module": "avatax" }, { "code": "from_cntry", "module": "avatax" }, { "code": "from_state", "module": "avatax" }, { "code": "from_zip", "module": "avatax" }, { "code": "use_from", "module": "avatax" }, { "code": "taxcode", "module": "avatax" }, { "code": "basket_inv", "module": "baskinv" }, { "code": "beaded_cuff", "module": "customfields" }, { "code": "cap_lid", "module": "customfields" }, { "code": "capacity", "module": "customfields" }, { "code": "cell_culture", "module": "customfields" }, { "code": "g_force", "module": "customfields" }, { "code": "closure_type", "module": "customfields" }, { "code": "color", "module": "customfields" }, { "code": "condition", "module": "customfields" }, { "code": "cryogenic", "module": "customfields" }, { "code": "bucket", "module": "productdigitaldownloadcustomfields" }, { "code": "file", "module": "productdigitaldownloadcustomfields" }, { "code": "region", "module": "productdigitaldownloadcustomfields" }, { "code": "enabled", "module": "productdigitaldownloadcustomfields" }, { "code": "cdn_name", "module": "productdigitaldownloadcustomfields" }, { "code": "expiration", "module": "productdigitaldownloadcustomfields" }, { "code": "miva_name", "module": "productdigitaldownloadcustomfields" }, { "code": "miva_path", "module": "productdigitaldownloadcustomfields" }, { "code": "max_dl", "module": "productdigitaldownloadcustomfields" }, { "code": "displacement_type", "module": "customfields" }, { "code": "erp_category", "module": "customfields" }, { "code": "electronic", "module": "customfields" }, { "code": "extra_long", "module": "customfields" }, { "code": "tabs_features", "module": "customfields" }, { "code": "alcohol", "module": "mvfedexsoap" }, { "code": "fclass", "module": "mvfedexsoap" }, { "code": "fpackage", "module": "mvfedexsoap" }, { "code": "dry_ice", "module": "mvfedexsoap" }, { "code": "dryicewt", "module": "mvfedexsoap" }, { "code": "insuredval", "module": "mvfedexsoap" }, { "code": "nonstdcont", "module": "mvfedexsoap" }, { "code": "signature", "module": "mvfedexsoap" }, { "code": "filtered", "module": "customfields" }, { "code": "gel_loadin", "module": "customfields" }, { "code": "glove_material", "module": "customfields" }, { "code": "googleshopping_adult_product", "module": "marketplaces" }, { "code": "googleshopping_adwords_redirect_url", "module": "marketplaces" }, { "code": "googleshopping_age_group", "module": "marketplaces" }, { "code": "googleshopping_availability", "module": "marketplaces" }, { "code": "googleshopping_brand", "module": "marketplaces" }, { "code": "googleshopping_is_bundled", "module": "marketplaces" }, { "code": "googleshopping_color", "module": "marketplaces" }, { "code": "googleshopping_condition", "module": "marketplaces" }, { "code": "googleshopping_custom_0", "module": "marketplaces" }, { "code": "googleshopping_custom_1", "module": "marketplaces" }, { "code": "googleshopping_custom_2", "module": "marketplaces" }, { "code": "googleshopping_custom_3", "module": "marketplaces" }, { "code": "googleshopping_custom_4", "module": "marketplaces" }, { "code": "googleshopping_description", "module": "marketplaces" }, { "code": "googleshopping_expiration_date", "module": "marketplaces" }, { "code": "googleshopping_gender", "module": "marketplaces" }, { "code": "googleshopping_gtin", "module": "marketplaces" }, { "code": "googleshopping_ignore_product", "module": "marketplaces" }, { "code": "googleshopping_item_id", "module": "marketplaces" }, { "code": "googleshopping_item_number", "module": "marketplaces" }, { "code": "googleshopping_material", "module": "marketplaces" }, { "code": "googleshopping_multipack", "module": "marketplaces" }, { "code": "googleshopping_part_number", "module": "marketplaces" }, { "code": "googleshopping_pattern", "module": "marketplaces" }, { "code": "googleshopping_product_category", "module": "marketplaces" }, { "code": "googleshopping_product_type", "module": "marketplaces" }, { "code": "googleshopping_sale_price", "module": "marketplaces" }, { "code": "googleshopping_shipping_label", "module": "marketplaces" }, { "code": "googleshopping_item_size", "module": "marketplaces" }, { "code": "googleshopping_size_system", "module": "marketplaces" }, { "code": "googleshopping_size_type", "module": "marketplaces" }, { "code": "googleshopping_title", "module": "marketplaces" }, { "code": "googleshopping_base_unit", "module": "marketplaces" }, { "code": "googleshopping_base_value", "module": "marketplaces" }, { "code": "googleshopping_unit", "module": "marketplaces" }, { "code": "googleshopping_unit_value", "module": "marketplaces" }, { "code": "googleshopping_weight", "module": "marketplaces" }, { "code": "hematocrit", "module": "customfields" }, { "code": "main", "module": "productimagecustomfields" }, { "code": "load_capacity", "module": "customfields" }, { "code": "low_retention", "module": "customfields" }, { "code": "description", "module": "cmp-mv-prodctgy-meta" }, { "code": "keywords", "module": "cmp-mv-prodctgy-meta" }, { "code": "CSD_MSRP", "module": "customfields" }, { "code": "macro_tips", "module": "customfields" }, { "code": "tabs_manuals", "module": "customfields" }, { "code": "manufacturer", "module": "customfields" }, { "code": "ManufacturerPartNumber", "module": "customfields" }, { "code": "material", "module": "customfields" }, { "code": "max_speed", "module": "customfields" }, { "code": "max_tube_diameter", "module": "customfields" }, { "code": "max_tube_size", "module": "customfields" }, { "code": "max_volume", "module": "customfields" }, { "code": "min_volume", "module": "customfields" }, { "code": "non_manufacturer_direct", "module": "customfields" }, { "code": "channels", "module": "customfields" }, { "code": "tabs_overview", "module": "customfields" }, { "code": "pcr", "module": "customfields" }, { "code": "parent_code", "module": "customfields" }, { "code": "parent-product", "module": "customfields" }, { "code": "pipette_type", "module": "customfields" }, { "code": "positive_displacement_pipettes", "module": "customfields" }, { "code": "power_source", "module": "customfields" }, { "code": "prod_savings_color", "module": "customfields" }, { "code": "prod_savings_text", "module": "customfields" }, { "code": "prod_depth", "module": "customfields" }, { "code": "footer", "module": "cmp-cssui-pchdft" }, { "code": "header", "module": "cmp-cssui-pchdft" }, { "code": "prod_height", "module": "customfields" }, { "code": "tgr_rating", "module": "tgreviews" }, { "code": "tgr_review_count", "module": "tgreviews" }, { "code": "prod_width", "module": "customfields" }, { "code": "promo_image", "module": "customfields" }, { "code": "promo_ctgy", "module": "customfields" }, { "code": "quantity", "module": "customfields" }, { "code": "recirculating", "module": "customfields" }, { "code": "refrigerated", "module": "customfields" }, { "code": "related_product_category", "module": "customfields" }, { "code": "relprod_code", "module": "relprodcustomfields" }, { "code": "relprod_sku", "module": "relprodcustomfields" }, { "code": "rotor_type", "module": "customfields" }, { "code": "specific_sale_price", "module": "discount_saleprice" }, { "code": "sample", "module": "customfields" }, { "code": "shape", "module": "customfields" }, { "code": "short_description", "module": "customfields" }, { "code": "show_tips_comp_link", "module": "customfields" }, { "code": "size", "module": "customfields" }, { "code": "specific_sale_price", "module": "customfields" }, { "code": "sterile", "module": "customfields" }, { "code": "tabs_technical_specs", "module": "customfields" }, { "code": "textured", "module": "customfields" }, { "code": "total_inv", "module": "baskinv" }, { "code": "unit_of_measure", "module": "customfields" }, { "code": "use_pjson", "module": "customfields" }, { "code": "tabs_videos", "module": "customfields" }, { "code": "voltage", "module": "customfields" }, { "code": "volume_type", "module": "customfields" }, { "code": "fixed_variable", "module": "customfields" }, { "code": "wide_bore", "module": "customfields" }, { "code": "wells", "module": "customfields" } ], "image": "F", "imagemachine_enabled": 1, "invmsg": "L", "predictdiscounts": 1, "price": "sale", "template_filename": "prod-product_display.mvc", "template_id": 62 }, "product_display_imagemachine": { "closeup_active": 0, "closeup_close": "closeup_close", "closeup_div": "closeup_div", "closeup_height": 960, "closeup_image": "closeup_image", "closeup_size": "N", "closeup_width": 960, "enabled": 1, "head": { "template_filename": "prod-product_display_imagemachine-head.mvc", "template_id": 59 }, "image_height": 640, "image_size": "B", "image_width": 640, "legacy_image": "N", "main_image": "main_image", "preload": 1, "thumb_active": 1, "thumb_height": 80, "thumb_width": 80, "thumbnails": "thumbnails" }, "related_products": { "additionalprice": "base", "advanced": 1, "b_height": 360, "b_width": 360, "button_add": 1, "button_buy": 1, "col_num": 2, "col_sel": "D", "constrain": "B", "default_sort": "disp_order", "displaydiscounts": 0, "field_code": 1, "field_desc": 0, "field_name": 1, "field_price": 1, "field_sku": 0, "field_weight": 0, "format": "X", "image": "T", "imagemachine_enabled": 0, "imagetypes": [ "main" ], "invmsg": "L", "items_per_page_filter": 0, "linkexcludecat": 0, "mode": "relp", "page_disp_count": 0, "per_page": 0, "predictdiscounts": 1, "price": "sale", "reverse_default_disp_order": 0, "sort_by": { "best": 1, "code": 0, "name": 0, "new": 1, "price": 1, "switch": 0 }, "template_filename": "prod-related_products.mvc", "template_id": 64 }, "related_products_imagemachine": { "closeup_active": 0, "closeup_close": "closeup_close_\u0025product_id\u0025", "closeup_div": "closeup_div_\u0025product_id\u0025", "closeup_height": 500, "closeup_image": "closeup_image_\u0025product_id\u0025", "closeup_size": "N", "closeup_width": 500, "enabled": 0, "image_height": 144, "image_size": "B", "image_width": 234, "legacy_image": "T", "main_image": "main_image_\u0025product_id\u0025", "preload": 0, "thumb_active": 1, "thumb_height": 42, "thumb_width": 42, "thumbnails": "thumbnails_\u0025product_id\u0025" }, "seo_settings": { "cat_lit": "category", "cat_lit_choice": "category", "plit_in_bc": 0, "prod_lit": "product", "prod_lit_choice": "product", "sc_always": 0, "sf_active": 0, "sl_active": 0, "sm_active": 1, "suffix": "html", "suffix_choice": "html", "surlprefix": "https:\/\/pipette.mivamerchant.net\/", "url_delim": "\/", "urlprefix": "http:\/\/pipette.mivamerchant.net\/" } }, "templ_id": 57, "title": "", "ui_id": 148, "user_id": 0, "version_id": 5, "xref_id": 5 }, "result": 1 } ], "productdigitaldownloadcustomfields": { "product": [ { "field_values": { "bucket": "", "cdn_name": "", "enabled": "No", "expiration": "Global", "file": "", "max_dl": "Global", "miva_name": "", "miva_path": "" }, "result": 1 } ] }, "productimagecustomfields": { "productimage": { "by_imagetype": { "main": "graphics\/00000001\/3\/0030132700.jpg" }, "imagedata": [ { "image": { "height": 600, "id": 5759, "image": "graphics\/00000001\/3\/0030132700.jpg", "refcount": 1, "width": 600 }, "imagetype": { "code": "main", "descrip": "Main", "id": 1 }, "productimage": { "disp_order": 183032, "id": 182832, "image_id": 5759, "product_id": 60574, "type_id": 1 } } ], "product_id": 60574 } }, "productsubscriptionsettings_load_product": [ { "error_code": "EOF", "error_db_eof": 1, "error_message": "Record not found: MER-SUB-DTB-00017", "productsubscriptionsettings": "", "result": 0 } ], "productvariantlist_load_product": { "product_id": 60574 }, "readytheme": { "lookandfeel": { "lookandfeel": { "bg_color": "", "bg_horiz": "center", "bg_image": "", "bg_repeat": "no-repeat", "bg_vert": "center", "font": "", "limg_alt": "Pipette", "limg_hght": "", "limg_size": 0, "limg_wdth": "", "logo_image": "graphics\/00000001\/1\/pipette.com-logo.png", "logo_type": "image", "s_active": 1, "s_facebook": "", "s_flickr": "", "s_gplus": "https:\/\/www.linkedin.com\/company\/pipette-com-accutek-lab", "s_instgram": "https:\/\/www.instagram.com\/pipette_com\/", "s_pintrest": "", "s_twitter": "", "s_vimeo": "", "s_youtube": "https:\/\/www.youtube.com\/channel\/UC1IrQ5Qpi4asCyQh6dZom8g\/videos", "text_name": "", "text_tagln": "", "tps_active": 0, "tps_text": "\u003Cspan class\u003D\"o-layout__item\"\u003EPlace your social sharing code here.\u003C\/span\u003E", "trs_active": 0, "trs_text": "" }, "result": 1 } }, "resolvedpricegroupandmodulelist_load_customer": [ { "cache": [ { "baskexc": "", "bmn_quan": 0, "bmn_subtot": 0, "bmn_weight": 0, "bmx_quan": 0, "bmx_subtot": 0, "bmx_weight": 0, "config": { "discount": 4.34, "maxdiscount": "0.00", "maxquantity": 0, "selection": "highest", "type": "percent" }, "custscope": "A", "descrip": "You Save", "discount": 0, "display": 1, "dt_end": 0, "dt_start": 0, "exclusion": 0, "exclusion_count": 0, "exclusions_applied": 1, "id": 1, "itemexc": "", "markup": 0, "module": { "active": 1, "api_ver": 9.01, "code": "discount_product", "id": 81, "module": "modules\/discount\/product.mvc", "name": "Product Discount", "priority": 0, "provider": "Miva Merchant", "refcount": 1, "version": 10 }, "module_id": 81, "name": "Sale Pricing", "original_module_id": 81, "priority": 0, "qmn_quan": 0, "qmn_subtot": 0, "qmn_weight": 0, "qmx_quan": 0, "qmx_subtot": 0, "qmx_weight": 0, "rate": "R" }, { "baskexc": "", "bmn_quan": 0, "bmn_subtot": 0, "bmn_weight": 0, "bmx_quan": 0, "bmx_subtot": 0, "bmx_weight": 0, "config": { "customfield_code": "specific_sale_price" }, "custscope": "A", "descrip": "", "discount": 0, "display": 1, "dt_end": 0, "dt_start": 0, "exclusion": 1, "exclusion_count": 0, "exclusions_applied": 1, "id": 5, "itemexc": "", "markup": 0, "module": { "active": 1, "api_ver": 10, "code": "discount_saleprice", "id": 82, "module": "modules\/discount\/saleprice.mvc", "name": "Specific Sale Price", "priority": 0, "provider": "Miva Merchant", "refcount": 1, "version": 10.08 }, "module_id": 82, "name": "Product Specific Sale Price", "original_module_id": 82, "priority": 0, "qmn_quan": 0, "qmn_subtot": 0, "qmn_weight": 0, "qmx_quan": 0, "qmx_subtot": 0, "qmx_weight": 0, "rate": "R" }, { "baskexc": [ 57, 58 ], "bmn_quan": 0, "bmn_subtot": 0, "bmn_weight": 0, "bmx_quan": 0, "bmx_subtot": 0, "bmx_weight": 0, "config": { "discount": 10, "maxdiscount": "0.00", "maxquantity": 0, "selection": "lowest", "type": "percent" }, "custscope": "A", "descrip": "", "discount": 0, "display": 1, "dt_end": 0, "dt_start": 0, "exclusion": 0, "exclusion_count": 0, "exclusions_applied": 1, "id": 15, "itemexc": "", "markup": 0, "module": { "active": 1, "api_ver": 9.01, "code": "discount_product", "id": 81, "module": "modules\/discount\/product.mvc", "name": "Product Discount", "priority": 0, "provider": "Miva Merchant", "refcount": 1, "version": 10 }, "module_id": 81, "name": "10\u0025 off all Pipettes 2", "original_module_id": 81, "priority": 0, "qmn_quan": 0, "qmn_subtot": 0, "qmn_weight": 0, "qmx_quan": 0, "qmx_subtot": 0, "qmx_weight": 0, "rate": "R" }, { "baskexc": "", "bmn_quan": 0, "bmn_subtot": 0, "bmn_weight": 125, "bmx_quan": 0, "bmx_subtot": 0, "bmx_weight": 0, "config": { "charge": "modify", "charge_add_descrip": "Shipping Discount", "charge_modify_append": " \u0028discounted\u0029", "charge_modify_descrip": "replace", "charge_modify_replace": "Ground Shipping \u0028Freight\u0029", "list_adjust": 1, "list_descrip": "replace", "list_replace": "Ground Shipping \u0028Freight\u0029", "methods": { "mvfedexsoap": { "FEDEX_3_DAY_FREIGHT": { "discount": 55, "discount_type": "percent" } } } }, "custscope": "A", "descrip": "", "discount": 0, "display": 1, "dt_end": 0, "dt_start": 0, "exclusion": 0, "exclusion_count": 0, "exclusions_applied": 1, "id": 30, "itemexc": "", "markup": 0, "module": { "active": 1, "api_ver": 9.01, "code": "discount_shipping_basket", "id": 83, "module": "modules\/discount\/shipping_basket.mvc", "name": "Shipping Discount \u0028Entire Order\u0029", "priority": 0, "provider": "Miva Merchant", "refcount": 1, "version": 10 }, "module_id": 83, "name": "Freight Shipping - Ground", "original_module_id": 83, "priority": 0, "qmn_quan": 0, "qmn_subtot": 0, "qmn_weight": 0, "qmx_quan": 0, "qmx_subtot": 0, "qmx_weight": 0, "rate": "R" }, { "baskexc": "", "bmn_quan": 0, "bmn_subtot": 0, "bmn_weight": 125, "bmx_quan": 0, "bmx_subtot": 0, "bmx_weight": 0, "config": { "charge": "modify", "charge_add_descrip": "Shipping Discount", "charge_modify_append": " \u0028discounted\u0029", "charge_modify_descrip": "replace", "charge_modify_replace": "Expedited Shipping \u0028Freight\u0029", "list_adjust": 1, "list_descrip": "replace", "list_replace": "Expedited Shipping \u0028Freight\u0029", "methods": { "mvfedexsoap": { "FEDEX_2_DAY_FREIGHT": { "discount": 45, "discount_type": "percent" } } } }, "custscope": "A", "descrip": "", "discount": 0, "display": 1, "dt_end": 0, "dt_start": 0, "exclusion": 0, "exclusion_count": 0, "exclusions_applied": 1, "id": 31, "itemexc": "", "markup": 0, "module": { "active": 1, "api_ver": 9.01, "code": "discount_shipping_basket", "id": 83, "module": "modules\/discount\/shipping_basket.mvc", "name": "Shipping Discount \u0028Entire Order\u0029", "priority": 0, "provider": "Miva Merchant", "refcount": 1, "version": 10 }, "module_id": 83, "name": "Freight Shipping - Expedited", "original_module_id": 83, "priority": 0, "qmn_quan": 0, "qmn_subtot": 0, "qmn_weight": 0, "qmx_quan": 0, "qmx_subtot": 0, "qmx_weight": 0, "rate": "R" }, { "baskexc": "", "bmn_quan": 0, "bmn_subtot": 0, "bmn_weight": 0, "bmx_quan": 0, "bmx_subtot": 0, "bmx_weight": 0, "config": { "discount": 100, "maxdiscount": "0.00", "maxquantity": 1, "selection": "lowest", "type": "percent" }, "custscope": "A", "descrip": "", "discount": 0, "display": 1, "dt_end": 0, "dt_start": 0, "exclusion": 0, "exclusion_count": 0, "exclusions_applied": 1, "id": 32, "itemexc": "", "markup": 0, "module": { "active": 1, "api_ver": 9.01, "code": "discount_product", "id": 81, "module": "modules\/discount\/product.mvc", "name": "Product Discount", "priority": 0, "provider": "Miva Merchant", "refcount": 1, "version": 10 }, "module_id": 81, "name": "Bench Press Promo - Dry Bath", "original_module_id": 81, "priority": 0, "qmn_quan": 0, "qmn_subtot": 0, "qmn_weight": 0, "qmx_quan": 0, "qmx_subtot": 0, "qmx_weight": 0, "rate": "R" }, { "baskexc": "", "bmn_quan": 0, "bmn_subtot": 0, "bmn_weight": 0, "bmx_quan": 0, "bmx_subtot": 0, "bmx_weight": 0, "config": { "discount": 100, "maxdiscount": "0.00", "maxquantity": 1, "selection": "lowest", "type": "percent" }, "custscope": "A", "descrip": "", "discount": 0, "display": 1, "dt_end": 0, "dt_start": 0, "exclusion": 0, "exclusion_count": 0, "exclusions_applied": 1, "id": 33, "itemexc": "", "markup": 0, "module": { "active": 1, "api_ver": 9.01, "code": "discount_product", "id": 81, "module": "modules\/discount\/product.mvc", "name": "Product Discount", "priority": 0, "provider": "Miva Merchant", "refcount": 1, "version": 10 }, "module_id": 81, "name": "Bench Press Promo - Roto-Therm Plus Incubated Rotator", "original_module_id": 81, "priority": 0, "qmn_quan": 0, "qmn_subtot": 0, "qmn_weight": 0, "qmx_quan": 0, "qmx_subtot": 0, "qmx_weight": 0, "rate": "R" }, { "baskexc": "", "bmn_quan": 0, "bmn_subtot": 0, "bmn_weight": 0, "bmx_quan": 0, "bmx_subtot": 0, "bmx_weight": 0, "config": { "discount": 100, "maxdiscount": "0.00", "maxquantity": 1, "selection": "lowest", "type": "percent" }, "custscope": "A", "descrip": "", "discount": 0, "display": 1, "dt_end": 0, "dt_start": 0, "exclusion": 0, "exclusion_count": 0, "exclusions_applied": 1, "id": 34, "itemexc": "", "markup": 0, "module": { "active": 1, "api_ver": 9.01, "code": "discount_product", "id": 81, "module": "modules\/discount\/product.mvc", "name": "Product Discount", "priority": 0, "provider": "Miva Merchant", "refcount": 1, "version": 10 }, "module_id": 81, "name": "Bench Press Promo - MYTEMP", "original_module_id": 81, "priority": 0, "qmn_quan": 0, "qmn_subtot": 0, "qmn_weight": 0, "qmx_quan": 0, "qmx_subtot": 0, "qmx_weight": 0, "rate": "R" }, { "baskexc": "", "bmn_quan": 0, "bmn_subtot": 0, "bmn_weight": 0, "bmx_quan": 0, "bmx_subtot": 0, "bmx_weight": 0, "config": { "discount": 100, "maxdiscount": "0.00", "maxquantity": 1, "selection": "lowest", "type": "percent" }, "custscope": "A", "descrip": "", "discount": 0, "display": 1, "dt_end": 0, "dt_start": 0, "exclusion": 0, "exclusion_count": 0, "exclusions_applied": 1, "id": 35, "itemexc": "", "markup": 0, "module": { "active": 1, "api_ver": 9.01, "code": "discount_product", "id": 81, "module": "modules\/discount\/product.mvc", "name": "Product Discount", "priority": 0, "provider": "Miva Merchant", "refcount": 1, "version": 10 }, "module_id": 81, "name": "BENCH PRESS PROMO - QUADCOUNT AUTOMATED", "original_module_id": 81, "priority": 0, "qmn_quan": 0, "qmn_subtot": 0, "qmn_weight": 0, "qmx_quan": 0, "qmx_subtot": 0, "qmx_weight": 0, "rate": "R" }, { "baskexc": "", "bmn_quan": 0, "bmn_subtot": 0, "bmn_weight": 0, "bmx_quan": 0, "bmx_subtot": 0, "bmx_weight": 0, "config": { "discount": 100, "maxdiscount": "0.00", "maxquantity": 1, "selection": "lowest", "type": "percent" }, "custscope": "A", "descrip": "", "discount": 0, "display": 1, "dt_end": 0, "dt_start": 0, "exclusion": 0, "exclusion_count": 0, "exclusions_applied": 1, "id": 36, "itemexc": "", "markup": 0, "module": { "active": 1, "api_ver": 9.01, "code": "discount_product", "id": 81, "module": "modules\/discount\/product.mvc", "name": "Product Discount", "priority": 0, "provider": "Miva Merchant", "refcount": 1, "version": 10 }, "module_id": 81, "name": "BENCH PRESS PROMO - BENCHWAVER 3D ROCKER", "original_module_id": 81, "priority": 0, "qmn_quan": 0, "qmn_subtot": 0, "qmn_weight": 0, "qmx_quan": 0, "qmx_subtot": 0, "qmx_weight": 0, "rate": "R" }, { "baskexc": "", "bmn_quan": 0, "bmn_subtot": 0, "bmn_weight": 0, "bmx_quan": 0, "bmx_subtot": 0, "bmx_weight": 0, "config": { "discount": 100, "maxdiscount": "0.00", "maxquantity": 1, "selection": "lowest", "type": "percent" }, "custscope": "A", "descrip": "", "discount": 0, "display": 1, "dt_end": 0, "dt_start": 0, "exclusion": 0, "exclusion_count": 0, "exclusions_applied": 1, "id": 37, "itemexc": "", "markup": 0, "module": { "active": 1, "api_ver": 9.01, "code": "discount_product", "id": 81, "module": "modules\/discount\/product.mvc", "name": "Product Discount", "priority": 0, "provider": "Miva Merchant", "refcount": 1, "version": 10 }, "module_id": 81, "name": "Bench Press Promo - Digital dry bath", "original_module_id": 81, "priority": 0, "qmn_quan": 0, "qmn_subtot": 0, "qmn_weight": 0, "qmx_quan": 0, "qmx_subtot": 0, "qmx_weight": 0, "rate": "R" }, { "baskexc": "", "bmn_quan": 0, "bmn_subtot": 0, "bmn_weight": 0, "bmx_quan": 0, "bmx_subtot": 0, "bmx_weight": 0, "config": { "price": "0.00", "product_code": "war-00001", "quantity": 1 }, "custscope": "A", "descrip": "1-Year Extended Warranty \u0028Refurb Centrifuge\u0029", "discount": 0, "display": 1, "dt_end": 0, "dt_start": 0, "exclusion": 0, "exclusion_count": 0, "exclusions_applied": 1, "id": 39, "itemexc": "", "markup": 0, "module": { "active": 1, "api_ver": 9.01, "code": "discount_addon", "id": 78, "module": "modules\/discount\/addon.mvc", "name": "Add-on Product", "priority": 0, "provider": "Miva Merchant", "refcount": 1, "version": 10.01 }, "module_id": 78, "name": "March Madness Extended Warranty", "original_module_id": 78, "priority": 0, "qmn_quan": 0, "qmn_subtot": 1245, "qmn_weight": 0, "qmx_quan": 0, "qmx_subtot": 0, "qmx_weight": 0, "rate": "R" }, { "baskexc": "", "bmn_quan": 0, "bmn_subtot": 0, "bmn_weight": 0, "bmx_quan": 0, "bmx_subtot": 0, "bmx_weight": 0, "config": { "charge": "modify", "charge_add_descrip": "Shipping Discount", "charge_modify_append": " \u0028discounted\u0029", "charge_modify_descrip": "none", "charge_modify_replace": "Discounted Shipping", "list_adjust": 1, "list_descrip": "none", "methods": { "flatrate": { "pick_up": { "discount": 100, "discount_type": "percent" } } } }, "custscope": "A", "descrip": "", "discount": 0, "display": 1, "dt_end": 0, "dt_start": 0, "exclusion": 0, "exclusion_count": 0, "exclusions_applied": 1, "id": 55, "itemexc": "", "markup": 0, "module": { "active": 1, "api_ver": 9.01, "code": "discount_shipping_basket", "id": 83, "module": "modules\/discount\/shipping_basket.mvc", "name": "Shipping Discount \u0028Entire Order\u0029", "priority": 0, "provider": "Miva Merchant", "refcount": 1, "version": 10 }, "module_id": 83, "name": "Pick Up - No Shipping", "original_module_id": 83, "priority": 0, "qmn_quan": 0, "qmn_subtot": 0, "qmn_weight": 0, "qmx_quan": 0, "qmx_subtot": 0, "qmx_weight": 0, "rate": "R" }, { "baskexc": "", "bmn_quan": 0, "bmn_subtot": 0, "bmn_weight": 0, "bmx_quan": 0, "bmx_subtot": 0, "bmx_weight": 0, "config": { "discount": 25, "maxdiscount": "0.00", "type": "percent" }, "custscope": "A", "descrip": "25\u0025 OFF ALL OXFORD EQUIPMENT\u0021", "discount": 0, "display": 1, "dt_end": 0, "dt_start": 0, "exclusion": 0, "exclusion_count": 0, "exclusions_applied": 1, "id": 69, "itemexc": "", "markup": 0, "module": { "active": 1, "api_ver": 9, "code": "discount_basket_product", "id": 183, "module": "modules\/discount\/basket_product.mvc", "name": "Basket Discount \u0028Specific Products\u0029", "priority": 0, "provider": "Miva Merchant", "refcount": 1, "version": 10 }, "module_id": 183, "name": "25\u0025 OFF ALL OXFORD EQUIPMENT\u0021", "original_module_id": 183, "priority": 0, "qmn_quan": 0, "qmn_subtot": 0, "qmn_weight": 0, "qmx_quan": 0, "qmx_subtot": 0, "qmx_weight": 0, "rate": "R" }, { "baskexc": "", "bmn_quan": 0, "bmn_subtot": 0, "bmn_weight": 0, "bmx_quan": 0, "bmx_subtot": 0, "bmx_weight": 0, "config": { "discount": 15, "maxdiscount": "0.00", "type": "percent" }, "custscope": "A", "descrip": "15\u0025 OFF ALL OXFORD SEROLOGICAL PIPETTES\u0021", "discount": 0, "display": 1, "dt_end": 0, "dt_start": 0, "exclusion": 0, "exclusion_count": 0, "exclusions_applied": 1, "id": 72, "itemexc": "", "markup": 0, "module": { "active": 1, "api_ver": 9, "code": "discount_basket_product", "id": 183, "module": "modules\/discount\/basket_product.mvc", "name": "Basket Discount \u0028Specific Products\u0029", "priority": 0, "provider": "Miva Merchant", "refcount": 1, "version": 10 }, "module_id": 183, "name": "15\u0025 OFF ALL OXFORD SEROLOGICAL PIPETTES\u0021", "original_module_id": 183, "priority": 0, "qmn_quan": 0, "qmn_subtot": 0, "qmn_weight": 0, "qmx_quan": 0, "qmx_subtot": 0, "qmx_weight": 0, "rate": "R" } ], "count": 15 } ], "seo_settings_load_cached": { "result": 1, "seo_settings": { "cat_lit": "category", "cat_lit_choice": "category", "plit_in_bc": 0, "prefix": "", "prefix_choice": "", "prod_lit": "product", "prod_lit_choice": "product", "sc_always": 0, "sf_active": 0, "sl_active": 0, "sm_active": 1, "suffix": "html", "suffix_choice": "html", "surlprefix": "https:\/\/pipette.com\/", "url_delim": "\/", "urlprefix": "http:\/\/pipette.com\/" } }, "sql": { "value_count": 3, "values": [ 60574, 0, "a98648df5349e6df207a8bcef2d4e390" ] }, "templatemanager_datetime": 1701554463, "TGReviewsProductsAverage_Load_Cached": [ { "error_code": "EOF", "error_db_eof": 1, "error_message": "Record not found: MOD-SYS-TGR-00088", "product_rating": "", "result": 0 } ], "urisettings_load_cached": { "result": 1, "urisettings": { "ct_delete": 1, "ct_gen": 1, "ct_regen": "", "ct_templ": "\/\u003Cmvt:if expr\u003D\"NOT ISNULL l.settings:category:slugified_page_title\"\u003E\u003Cmvt:eval expr\u003D\"tolower\u0028 l.settings:category:slugified_page_title \u0029\" \/\u003E\u003Cmvt:else\u003E\u003Cmvt:eval expr\u003D\"tolower\u0028 l.settings:category:slugified_name \u0029\" \/\u003E\u003C\/mvt:if\u003E.html", "def_screen": "NTFD", "def_store": "", "pg_delete": 1, "pg_gen": 1, "pg_regen": "", "pg_templ": "\/\u003Cmvt:if expr\u003D\"NOT ISNULL l.settings:page:slugified_title\"\u003E\u003Cmvt:eval expr\u003D\"tolower\u0028 l.settings:page:slugified_title \u0029\" \/\u003E\u003Cmvt:else\u003E\u003Cmvt:eval expr\u003D\"tolower\u0028 l.settings:page:slugified_name \u0029\" \/\u003E\u003C\/mvt:if\u003E.html", "pr_delete": 1, "pr_gen": 1, "pr_regen": "", "pr_templ": "\/\u003Cmvt:if expr\u003D\"NOT ISNULL l.settings:product:slugified_page_title\"\u003E\u003Cmvt:eval expr\u003D\"tolower\u0028 l.settings:product:slugified_page_title \u0029\" \/\u003E\u003Cmvt:else\u003E\u003Cmvt:eval expr\u003D\"tolower\u0028 l.settings:product:slugified_name \u0029\" \/\u003E\u003C\/mvt:if\u003E.html", "source": "uri", "surlprefix": "https:\/\/pipette.com\/", "urlprefix": "http:\/\/pipette.com\/" } } }, "clientside_minified": 0, "customfield_errors": [ { "message": "Product custom field \u0027hide_promotion\u0027 could not be found", "param": "Read_Product_Code\u0028 l.settings:parent_prod:code, \u0027hide_promotion\u0027, l.settings:product:customfield_values:customfields:hide_promotion \u0029" } ], "parameters": [ "" ], "source": "runtime", "special_globals": [ "data_opened", "domain", "store", "store_table_prefix", "user", "session", "basket", "customer", "error_code", "error_message", "prv_log_file_name", "admin_user_id", "admin_user_administrator", "admin_user_create", "library_filename_native_dbapi", "mm5_config_initialization_globals" ], "uri": { "canonical": 1, "cat_id": 0, "feed_id": 0, "id": 61040, "page_code": "", "product_id": 60574, "screen": "", "status": 200, "store_id": 1, "uri": "\/eppendorf-30132700.html" } } , "Basket": { "basket_id": "provisional", "chksess_id": "", "csrf_token": "2aa385d046a38fc69a5dae6c6e3fe355", "cussess_id": "", "cust_id": 0, "lastupdate": 1701554463, "order_id": 0, "order_proc": 0, "session_id": "434e67a69d8bb52fc9e5bd8325334906", "ship_id": 0 } , "Customer": "" , "Error_Code": "EOF" , "Error_Message": "Record not found: MER-TUI-DTB-00557" , "PRV_log_file_name": "" , "Admin_User_ID": 0 , "Admin_User_Administrator": 0 , "Admin_User_Create": 0 , "Library_Filename_Native_DBAPI": "dbapi_mysql.mvc" , "Merchant_Version": "10.08.00" , "Merchant_API_Version": 10.08 , "Merchant_Production_Version": 10 , "Merchant_Update_Version": 0 , "Merchant_Beta_Version": 0 , "Merchant_Product_Type": "MM" , "MerchantPath": "Merchant5\/" , "Library_Path": "lib\/" , "Module_Path": "modules\/" , "Feature_Path": "features\/" , "EmailList_Path": "emaillst\/" , "Version_Path": "5.00\/" , "AdminGraphics_Path": "graphics\/en-US\/admin\/" , "Merchant_Local_Timezone": "local" , "Library_Filename_Utilities": "util.mvc" , "Library_Filename_Crypto": "crypto.mvc" , "Library_Filename_DB": "db.mvc" , "Library_Filename_DBAPI": "dbapi.mvc" , "Filename_Version": "version.mvc" , "Filename_Admin": "admin.mvc" , "Filename_Merchant": "merchant.mvc" , "Filename_JSON": "json.mvc" , "Filename_Clientside": "clientside.mvc" , "Filename_Upgrade": "upgrade.mvc" , "Module_Upgrade": "\/mm5\/upgrade.mvc" , "Library_Utilities": "lib\/util.mvc" , "Library_Crypto": "lib\/crypto.mvc" , "Library_DB": "lib\/db.mvc" , "Library_DBAPI": "lib\/dbapi.mvc" , "Library_Native_DBAPI": "lib\/dbapi_mysql.mvc" , "Feature_Path_AFF": "aff\/" , "Feature_Filename_AFF": "aff.mvc" , "Feature_Filename_AFF_DB": "aff_db.mvc" , "Feature_Filename_AFF_JSON": "aff_json.mvc" , "Feature_AFF": "features\/aff\/aff.mvc" , "Feature_AFF_DB": "features\/aff\/aff_db.mvc" , "Feature_AFF_JSON": "features\/aff\/aff_json.mvc" , "Feature_Path_AGR": "agr\/" , "Feature_Filename_AGR": "agr.mvc" , "Feature_Filename_AGR_AD": "agr_ad.mvc" , "Feature_Filename_AGR_DB": "agr_db.mvc" , "Feature_Filename_AGR_JSON": "agr_json.mvc" , "Feature_AGR_AD": "features\/agr\/agr_ad.mvc" , "Feature_AGR_DB": "features\/agr\/agr_db.mvc" , "Feature_AGR_JSON": "features\/agr\/agr_json.mvc" , "Feature_Path_CUS": "cus\/" , "Feature_Filename_CUS": "cus.mvc" , "Feature_Filename_CUS_DB": "cus_db.mvc" , "Feature_Filename_CUS_JSON": "cus_json.mvc" , "Feature_Filename_CUS_RT": "cus_rt.mvc" , "Feature_Filename_CUS_UT": "cus_ut.mvc" , "Feature_CUS": "features\/cus\/cus.mvc" , "Feature_CUS_DB": "features\/cus\/cus_db.mvc" , "Feature_CUS_JSON": "features\/cus\/cus_json.mvc" , "Feature_CUS_RT": "features\/cus\/cus_rt.mvc" , "Feature_CUS_UT": "features\/cus\/cus_ut.mvc" , "Feature_Path_GFT": "gft\/" , "Feature_Filename_GFT_AD": "gft_ad.mvc" , "Feature_Filename_GFT_DB": "gft_db.mvc" , "Feature_Filename_GFT_JSON": "gft_json.mvc" , "Feature_Filename_GFT_RT": "gft_rt.mvc" , "Feature_Filename_GFT_UT": "gft_ut.mvc" , "Feature_GFT_AD": "features\/gft\/gft_ad.mvc" , "Feature_GFT_DB": "features\/gft\/gft_db.mvc" , "Feature_GFT_JSON": "features\/gft\/gft_json.mvc" , "Feature_GFT_RT": "features\/gft\/gft_rt.mvc" , "Feature_GFT_UT": "features\/gft\/gft_ut.mvc" , "Feature_Path_INV": "inv\/" , "Feature_Filename_INV_AD": "inv_ad.mvc" , "Feature_Filename_INV_DB": "inv_db.mvc" , "Feature_Filename_INV_JSON": "inv_json.mvc" , "Feature_Filename_INV_RT": "inv_rt.mvc" , "Feature_INV_AD": "features\/inv\/inv_ad.mvc" , "Feature_INV_DB": "features\/inv\/inv_db.mvc" , "Feature_INV_JSON": "features\/inv\/inv_json.mvc" , "Feature_INV_RT": "features\/inv\/inv_rt.mvc" , "Feature_Path_IMP": "imp\/" , "Feature_Filename_IMP_AD": "imp_ad.mvc" , "Feature_Filename_IMP_DB": "imp_db.mvc" , "Feature_Filename_IMP_UT": "imp_ut.mvc" , "Feature_Filename_IMP_JSON": "imp_json.mvc" , "Feature_IMP_AD": "features\/imp\/imp_ad.mvc" , "Feature_IMP_DB": "features\/imp\/imp_db.mvc" , "Feature_IMP_UT": "features\/imp\/imp_ut.mvc" , "Feature_IMP_JSON": "features\/imp\/imp_json.mvc" , "Feature_Path_PGB": "pgb\/" , "Feature_Filename_PGB_AD": "pgb_ad.mvc" , "Feature_Filename_PGB_DB": "pgb_db.mvc" , "Feature_Filename_PGB_JSON": "pgb_json.mvc" , "Feature_Filename_PGB_UT": "pgb_ut.mvc" , "Feature_PGB_AD": "features\/pgb\/pgb_ad.mvc" , "Feature_PGB_DB": "features\/pgb\/pgb_db.mvc" , "Feature_PGB_JSON": "features\/pgb\/pgb_json.mvc" , "Feature_PGB_UT": "features\/pgb\/pgb_ut.mvc" , "Feature_Path_PGR": "pgr\/" , "Feature_Filename_PGR": "pgr.mvc" , "Feature_Filename_PGR_AD": "pgr_ad.mvc" , "Feature_Filename_PGR_DB": "pgr_db.mvc" , "Feature_Filename_PGR_JSON": "pgr_json.mvc" , "Feature_Filename_PGR_RT": "pgr_rt.mvc" , "Feature_Filename_PGR_UT": "pgr_ut.mvc" , "Feature_PGR_AD": "features\/pgr\/pgr_ad.mvc" , "Feature_PGR_DB": "features\/pgr\/pgr_db.mvc" , "Feature_PGR_JSON": "features\/pgr\/pgr_json.mvc" , "Feature_PGR_RT": "features\/pgr\/pgr_rt.mvc" , "Feature_PGR_UT": "features\/pgr\/pgr_ut.mvc" , "Feature_Path_PRV": "prv\/" , "Feature_Filename_PRV_AD": "prv_ad.mvc" , "Feature_Filename_PRV_JSON": "prv_json.mvc" , "Feature_PRV_AD": "features\/prv\/prv_ad.mvc" , "Feature_PRV_JSON": "features\/prv\/prv_json.mvc" , "Feature_Path_RPD": "rpd\/" , "Feature_Filename_RPD_AD": "rpd_ad.mvc" , "Feature_Filename_RPD_DB": "rpd_db.mvc" , "Feature_Filename_RPD_JSON": "rpd_json.mvc" , "Feature_RPD_AD": "features\/rpd\/rpd_ad.mvc" , "Feature_RPD_DB": "features\/rpd\/rpd_db.mvc" , "Feature_RPD_JSON": "features\/rpd\/rpd_json.mvc" , "Feature_Path_STA": "sta\/" , "Feature_Filename_STA": "sta.mvc" , "Feature_Filename_STA_DB": "sta_db.mvc" , "Feature_Filename_STA_AD": "sta_ad.mvc" , "Feature_STA_DB": "features\/sta\/sta_db.mvc" , "Feature_STA_AD": "features\/sta\/sta_ad.mvc" , "Feature_Path_ATT": "att\/" , "Feature_Filename_ATT": "att.mvc" , "Feature_Filename_ATT_DB": "att_db.mvc" , "Feature_Filename_ATT_JSON": "att_json.mvc" , "Feature_ATT": "features\/att\/att.mvc" , "Feature_ATT_DB": "features\/att\/att_db.mvc" , "Feature_ATT_JSON": "features\/att\/att_json.mvc" , "Feature_Path_TUI": "tui\/" , "Feature_Filename_TUI_AD": "tui_ad.mvc" , "Feature_Filename_TUI_DB": "tui_db.mvc" , "Feature_Filename_TUI_JSON": "tui_json.mvc" , "Feature_Filename_TUI_MGR": "tui_mgr.mvc" , "Feature_Filename_TUI_UT": "tui_ut.mvc" , "Feature_TUI_AD": "features\/tui\/tui_ad.mvc" , "Feature_TUI_DB": "features\/tui\/tui_db.mvc" , "Feature_TUI_JSON": "features\/tui\/tui_json.mvc" , "Feature_TUI_MGR": "features\/tui\/tui_mgr.mvc" , "Feature_TUI_UT": "features\/tui\/tui_ut.mvc" , "Feature_Path_UPG": "upg\/" , "Feature_Filename_UPG_AD": "upg_ad.mvc" , "Feature_Filename_UPG_DB": "upg_db.mvc" , "Feature_Filename_UPG_UT": "upg_ut.mvc" , "Feature_UPG_AD": "features\/upg\/upg_ad.mvc" , "Feature_UPG_DB": "features\/upg\/upg_db.mvc" , "Feature_UPG_UT": "features\/upg\/upg_ut.mvc" , "Feature_Path_URI": "uri\/" , "Feature_Filename_URI_AD": "uri_ad.mvc" , "Feature_Filename_URI_DB": "uri_db.mvc" , "Feature_Filename_URI_JSON": "uri_json.mvc" , "Feature_Filename_URI_UT": "uri_ut.mvc" , "Feature_URI_AD": "features\/uri\/uri_ad.mvc" , "Feature_URI_DB": "features\/uri\/uri_db.mvc" , "Feature_URI_JSON": "features\/uri\/uri_json.mvc" , "Feature_URI_UT": "features\/uri\/uri_ut.mvc" , "Feature_Path_USL": "usl\/" , "Feature_Filename_USL": "usl.mvc" , "Feature_Filename_USL_AD": "usl_ad.mvc" , "Feature_Filename_USL_DB": "usl_db.mvc" , "Feature_Filename_USL_JSON": "usl_json.mvc" , "Feature_Filename_USL_RT": "usl_rt.mvc" , "Feature_USL_AD": "features\/usl\/usl_ad.mvc" , "Feature_USL_DB": "features\/usl\/usl_db.mvc" , "Feature_USL_RT": "features\/usl\/usl_rt.mvc" , "Feature_USL_JSON": "features\/usl\/usl_json.mvc" , "Feature_Path_RPT": "rpt\/" , "Feature_Filename_RPT_AD": "rpt_ad.mvc" , "Feature_Filename_RPT_DB": "rpt_db.mvc" , "Feature_Filename_RPT_UT": "rpt_ut.mvc" , "Feature_Filename_RPT_JSON": "rpt_json.mvc" , "Feature_RPT_AD": "features\/rpt\/rpt_ad.mvc" , "Feature_RPT_DB": "features\/rpt\/rpt_db.mvc" , "Feature_RPT_UT": "features\/rpt\/rpt_ut.mvc" , "Feature_RPT_JSON": "features\/rpt\/rpt_json.mvc" , "Feature_Path_SCH": "sch\/" , "Feature_Filename_SCH_AD": "sch_ad.mvc" , "Feature_Filename_SCH_DB": "sch_db.mvc" , "Feature_Filename_SCH_UT": "sch_ut.mvc" , "Feature_Filename_SCH_JSON": "sch_json.mvc" , "Feature_SCH_AD": "features\/sch\/sch_ad.mvc" , "Feature_SCH_DB": "features\/sch\/sch_db.mvc" , "Feature_SCH_UT": "features\/sch\/sch_ut.mvc" , "Feature_SCH_JSON": "features\/sch\/sch_json.mvc" , "Feature_Path_SHP": "shp\/" , "Feature_Filename_SHP_AD": "shp_ad.mvc" , "Feature_Filename_SHP_DB": "shp_db.mvc" , "Feature_Filename_SHP_UT": "shp_ut.mvc" , "Feature_Filename_SHP_JSON": "shp_json.mvc" , "Feature_SHP_AD": "features\/shp\/shp_ad.mvc" , "Feature_SHP_DB": "features\/shp\/shp_db.mvc" , "Feature_SHP_UT": "features\/shp\/shp_ut.mvc" , "Feature_SHP_JSON": "features\/shp\/shp_json.mvc" , "Feature_Path_PAY": "pay\/" , "Feature_Filename_PAY_AD": "pay_ad.mvc" , "Feature_Filename_PAY_DB": "pay_db.mvc" , "Feature_Filename_PAY_RT": "pay_rt.mvc" , "Feature_Filename_PAY_UT": "pay_ut.mvc" , "Feature_Filename_PAY_JSON": "pay_json.mvc" , "Feature_PAY_AD": "features\/pay\/pay_ad.mvc" , "Feature_PAY_DB": "features\/pay\/pay_db.mvc" , "Feature_PAY_RT": "features\/pay\/pay_rt.mvc" , "Feature_PAY_UT": "features\/pay\/pay_ut.mvc" , "Feature_PAY_JSON": "features\/pay\/pay_json.mvc" , "Feature_Path_WSH": "wsh\/" , "Feature_Filename_WSH_DB": "wsh_db.mvc" , "Feature_Filename_WSH_RT": "wsh_rt.mvc" , "Feature_Filename_WSH_UT": "wsh_ut.mvc" , "Feature_WSH_DB": "features\/wsh\/wsh_db.mvc" , "Feature_WSH_RT": "features\/wsh\/wsh_rt.mvc" , "Feature_WSH_UT": "features\/wsh\/wsh_ut.mvc" , "Feature_Path_DDL": "ddl\/" , "Feature_Filename_DDL_AD": "ddl_ad.mvc" , "Feature_Filename_DDL_DB": "ddl_db.mvc" , "Feature_Filename_DDL_RT": "ddl_rt.mvc" , "Feature_Filename_DDL_UT": "ddl_ut.mvc" , "Feature_Filename_DDL_JSON": "ddl_json.mvc" , "Feature_DDL_AD": "features\/ddl\/ddl_ad.mvc" , "Feature_DDL_DB": "features\/ddl\/ddl_db.mvc" , "Feature_DDL_RT": "features\/ddl\/ddl_rt.mvc" , "Feature_DDL_UT": "features\/ddl\/ddl_ut.mvc" , "Feature_DDL_JSON": "features\/ddl\/ddl_json.mvc" , "Feature_Path_FDS": "fds\/" , "Feature_Filename_FDS_AD": "fds_ad.mvc" , "Feature_Filename_FDS_DB": "fds_db.mvc" , "Feature_Filename_FDS_UT": "fds_ut.mvc" , "Feature_Filename_FDS_JSON": "fds_json.mvc" , "Feature_FDS_AD": "features\/fds\/fds_ad.mvc" , "Feature_FDS_DB": "features\/fds\/fds_db.mvc" , "Feature_FDS_UT": "features\/fds\/fds_ut.mvc" , "Feature_FDS_JSON": "features\/fds\/fds_json.mvc" , "Feature_Path_SUB": "sub\/" , "Feature_Filename_SUB_AD": "sub_ad.mvc" , "Feature_Filename_SUB_DB": "sub_db.mvc" , "Feature_Filename_SUB_RT": "sub_rt.mvc" , "Feature_Filename_SUB_UT": "sub_ut.mvc" , "Feature_Filename_SUB_JSON": "sub_json.mvc" , "Feature_SUB_AD": "features\/sub\/sub_ad.mvc" , "Feature_SUB_DB": "features\/sub\/sub_db.mvc" , "Feature_SUB_RT": "features\/sub\/sub_rt.mvc" , "Feature_SUB_UT": "features\/sub\/sub_ut.mvc" , "Feature_SUB_JSON": "features\/sub\/sub_json.mvc" , "Feature_Path_SEA": "sea\/" , "Feature_Filename_SEA_AD": "sea_ad.mvc" , "Feature_Filename_SEA_DB": "sea_db.mvc" , "Feature_Filename_SEA_UT": "sea_ut.mvc" , "Feature_Filename_SEA_JSON": "sea_json.mvc" , "Feature_SEA_AD": "features\/sea\/sea_ad.mvc" , "Feature_SEA_DB": "features\/sea\/sea_db.mvc" , "Feature_SEA_UT": "features\/sea\/sea_ut.mvc" , "Feature_SEA_JSON": "features\/sea\/sea_json.mvc" , "Feature_Path_FCT": "fct\/" , "Feature_Filename_FCT_AD": "fct_ad.mvc" , "Feature_Filename_FCT_DB": "fct_db.mvc" , "Feature_Filename_FCT_UT": "fct_ut.mvc" , "Feature_Filename_FCT_JSON": "fct_json.mvc" , "Feature_FCT_AD": "features\/fct\/fct_ad.mvc" , "Feature_FCT_DB": "features\/fct\/fct_db.mvc" , "Feature_FCT_UT": "features\/fct\/fct_ut.mvc" , "Feature_FCT_JSON": "features\/fct\/fct_json.mvc" , "Feature_Path_CPD": "cpd\/" , "Feature_Filename_CPD_AD": "cpd_ad.mvc" , "Feature_Filename_CPD_DB": "cpd_db.mvc" , "Feature_Filename_CPD_UT": "cpd_ut.mvc" , "Feature_Filename_CPD_JSON": "cpd_json.mvc" , "Feature_CPD_AD": "features\/cpd\/cpd_ad.mvc" , "Feature_CPD_DB": "features\/cpd\/cpd_db.mvc" , "Feature_CPD_UT": "features\/cpd\/cpd_ut.mvc" , "Feature_CPD_JSON": "features\/cpd\/cpd_json.mvc" , "Feature_Path_CHE": "che\/" , "Feature_Filename_CHE_UT": "che_ut.mvc" , "Feature_CHE_UT": "features\/che\/che_ut.mvc" , "DBAPI": "dbapi.mvc" , "MvIMPORT_Error": "" , "Native_DBAPI": "mysql" , "MvOPEN_Error": "" , "MvOPENVIEW_Error": "" , "baseurl": "https:\/\/pipette.com\/mm5\/" , "secure_baseurl": "https:\/\/pipette.com\/mm5\/" , "Secure": 1 , "basehref": "https:\/\/pipette.com\/mm5\/" , "cookiedomain": "" , "cookiepath": "\/" , "Module_Root_Versionless": "\/mm5\/" , "imageroot": "\/mm5\/" , "Module_Root": "\/mm5\/5.00\/" , "Module_Library_Utilities": "\/mm5\/5.00\/lib\/util.mvc" , "Module_Library_Crypto": "\/mm5\/5.00\/lib\/crypto.mvc" , "Module_Library_DB": "\/mm5\/5.00\/lib\/db.mvc" , "Module_Library_DBAPI": "\/mm5\/5.00\/lib\/dbapi.mvc" , "Module_Library_Native_DBAPI": "\/mm5\/5.00\/lib\/dbapi_mysql.mvc" , "Library_Help": "" , "Module_Library_Help": "\/mm5\/5.00\/" , "Module_Admin": "\/mm5\/5.00\/admin.mvc" , "Module_Merchant": "\/mm5\/5.00\/merchant.mvc" , "Module_JSON": "\/mm5\/5.00\/json.mvc" , "Module_Clientside": "\/mm5\/5.00\/clientside.mvc" , "Module_Version": "\/mm5\/5.00\/version.mvc" , "Features": { "Affiliates": { "Enabled": 1 }, "AttributeTemplates": { "Enabled": 1 }, "AvailabilityGroups": { "Enabled": 1 }, "Customers": { "Enabled": 1 }, "Inventory": { "Enabled": 1 }, "Modules": { "Global_Add_Disabled": 0, "Global_Add_Enabled": 1 }, "PriceGroups": { "Enabled": 1 }, "RelatedProducts": { "Enabled": 1 }, "Upsale": { "Enabled": 1 } } , "Module_Feature_AFF_DB": "\/mm5\/5.00\/features\/aff\/aff_db.mvc" , "Module_Feature_AFF": "\/mm5\/5.00\/features\/aff\/aff.mvc" , "Module_Feature_AGR_DB": "\/mm5\/5.00\/features\/agr\/agr_db.mvc" , "Module_Feature_AGR_AD": "\/mm5\/5.00\/features\/agr\/agr_ad.mvc" , "Module_Feature_AGR_JSON": "\/mm5\/5.00\/features\/agr\/agr_json.mvc" , "Module_Feature_CUS_DB": "\/mm5\/5.00\/features\/cus\/cus_db.mvc" , "Module_Feature_CUS_JSON": "\/mm5\/5.00\/features\/cus\/cus_json.mvc" , "Module_Feature_CUS_RT": "\/mm5\/5.00\/features\/cus\/cus_rt.mvc" , "Module_Feature_CUS_UT": "\/mm5\/5.00\/features\/cus\/cus_ut.mvc" , "Module_Feature_CUS": "\/mm5\/5.00\/features\/cus\/cus.mvc" , "Module_Feature_GFT_AD": "\/mm5\/5.00\/features\/gft\/gft_ad.mvc" , "Module_Feature_GFT_DB": "\/mm5\/5.00\/features\/gft\/gft_db.mvc" , "Module_Feature_GFT_JSON": "\/mm5\/5.00\/features\/gft\/gft_json.mvc" , "Module_Feature_GFT_RT": "\/mm5\/5.00\/features\/gft\/gft_rt.mvc" , "Module_Feature_GFT_UT": "\/mm5\/5.00\/features\/gft\/gft_ut.mvc" , "Module_Feature_PAY_AD": "\/mm5\/5.00\/features\/pay\/pay_ad.mvc" , "Module_Feature_PAY_DB": "\/mm5\/5.00\/features\/pay\/pay_db.mvc" , "Module_Feature_PAY_RT": "\/mm5\/5.00\/features\/pay\/pay_rt.mvc" , "Module_Feature_PAY_JSON": "\/mm5\/5.00\/features\/pay\/pay_json.mvc" , "Module_Feature_PAY_UT": "\/mm5\/5.00\/features\/pay\/pay_ut.mvc" , "Module_Feature_PGB_AD": "\/mm5\/5.00\/features\/pgb\/pgb_ad.mvc" , "Module_Feature_PGB_DB": "\/mm5\/5.00\/features\/pgb\/pgb_db.mvc" , "Module_Feature_PGB_JSON": "\/mm5\/5.00\/features\/pgb\/pgb_json.mvc" , "Module_Feature_PGB_UT": "\/mm5\/5.00\/features\/pgb\/pgb_ut.mvc" , "Module_Feature_PGR_AD": "\/mm5\/5.00\/features\/pgr\/pgr_ad.mvc" , "Module_Feature_PGR_DB": "\/mm5\/5.00\/features\/pgr\/pgr_db.mvc" , "Module_Feature_PGR_JSON": "\/mm5\/5.00\/features\/pgr\/pgr_json.mvc" , "Module_Feature_PGR_RT": "\/mm5\/5.00\/features\/pgr\/pgr_rt.mvc" , "Module_Feature_PGR_UT": "\/mm5\/5.00\/features\/pgr\/pgr_ut.mvc" , "Module_Feature_RPD_DB": "\/mm5\/5.00\/features\/rpd\/rpd_db.mvc" , "Feature_RPD": "" , "Module_Feature_RPD": "\/mm5\/5.00\/" , "Module_Feature_RPD_AD": "\/mm5\/5.00\/features\/rpd\/rpd_ad.mvc" , "Module_Feature_RPD_JSON": "\/mm5\/5.00\/features\/rpd\/rpd_json.mvc" , "Module_Feature_INV_AD": "\/mm5\/5.00\/features\/inv\/inv_ad.mvc" , "Module_Feature_INV_DB": "\/mm5\/5.00\/features\/inv\/inv_db.mvc" , "Module_Feature_INV_JSON": "\/mm5\/5.00\/features\/inv\/inv_json.mvc" , "Module_Feature_INV_RT": "\/mm5\/5.00\/features\/inv\/inv_rt.mvc" , "Module_Feature_IMP_AD": "\/mm5\/5.00\/features\/imp\/imp_ad.mvc" , "Module_Feature_IMP_DB": "\/mm5\/5.00\/features\/imp\/imp_db.mvc" , "Module_Feature_IMP_UT": "\/mm5\/5.00\/features\/imp\/imp_ut.mvc" , "Module_Feature_IMP_JSON": "\/mm5\/5.00\/features\/imp\/imp_json.mvc" , "Module_Feature_STA_DB": "\/mm5\/5.00\/features\/sta\/sta_db.mvc" , "Module_Feature_STA_AD": "\/mm5\/5.00\/features\/sta\/sta_ad.mvc" , "Module_Feature_TUI_AD": "\/mm5\/5.00\/features\/tui\/tui_ad.mvc" , "Module_Feature_TUI_JSON": "\/mm5\/5.00\/features\/tui\/tui_json.mvc" , "Module_Feature_TUI_DB": "\/mm5\/5.00\/features\/tui\/tui_db.mvc" , "Module_Feature_TUI_MGR": "\/mm5\/5.00\/features\/tui\/tui_mgr.mvc" , "Module_Feature_TUI_UT": "\/mm5\/5.00\/features\/tui\/tui_ut.mvc" , "Module_Feature_UPG_AD": "\/mm5\/5.00\/features\/upg\/upg_ad.mvc" , "Module_Feature_UPG_DB": "\/mm5\/5.00\/features\/upg\/upg_db.mvc" , "Module_Feature_UPG_UT": "\/mm5\/5.00\/features\/upg\/upg_ut.mvc" , "Module_Feature_URI_AD": "\/mm5\/5.00\/features\/uri\/uri_ad.mvc" , "Module_Feature_URI_DB": "\/mm5\/5.00\/features\/uri\/uri_db.mvc" , "Module_Feature_URI_JSON": "\/mm5\/5.00\/features\/uri\/uri_json.mvc" , "Module_Feature_URI_UT": "\/mm5\/5.00\/features\/uri\/uri_ut.mvc" , "Module_Feature_USL_AD": "\/mm5\/5.00\/features\/usl\/usl_ad.mvc" , "Module_Feature_USL_DB": "\/mm5\/5.00\/features\/usl\/usl_db.mvc" , "Module_Feature_USL_RT": "\/mm5\/5.00\/features\/usl\/usl_rt.mvc" , "Module_Feature_USL_JSON": "\/mm5\/5.00\/features\/usl\/usl_json.mvc" , "Module_Feature_PRV_AD": "\/mm5\/5.00\/features\/prv\/prv_ad.mvc" , "Module_Feature_PRV_JSON": "\/mm5\/5.00\/features\/prv\/prv_json.mvc" , "Module_Feature_ATT_JSON": "\/mm5\/5.00\/features\/att\/att_json.mvc" , "Module_Feature_ATT_DB": "\/mm5\/5.00\/features\/att\/att_db.mvc" , "Module_Feature_ATT": "\/mm5\/5.00\/features\/att\/att.mvc" , "Module_Feature_RPT_AD": "\/mm5\/5.00\/features\/rpt\/rpt_ad.mvc" , "Module_Feature_RPT_DB": "\/mm5\/5.00\/features\/rpt\/rpt_db.mvc" , "Module_Feature_RPT_UT": "\/mm5\/5.00\/features\/rpt\/rpt_ut.mvc" , "Module_Feature_RPT_JSON": "\/mm5\/5.00\/features\/rpt\/rpt_json.mvc" , "Module_Feature_SCH_AD": "\/mm5\/5.00\/features\/sch\/sch_ad.mvc" , "Module_Feature_SCH_DB": "\/mm5\/5.00\/features\/sch\/sch_db.mvc" , "Module_Feature_SCH_UT": "\/mm5\/5.00\/features\/sch\/sch_ut.mvc" , "Module_Feature_SCH_JSON": "\/mm5\/5.00\/features\/sch\/sch_json.mvc" , "Module_Feature_SHP_AD": "\/mm5\/5.00\/features\/shp\/shp_ad.mvc" , "Module_Feature_SHP_DB": "\/mm5\/5.00\/features\/shp\/shp_db.mvc" , "Module_Feature_SHP_UT": "\/mm5\/5.00\/features\/shp\/shp_ut.mvc" , "Module_Feature_SHP_JSON": "\/mm5\/5.00\/features\/shp\/shp_json.mvc" , "Module_Feature_WSH_DB": "\/mm5\/5.00\/features\/wsh\/wsh_db.mvc" , "Module_Feature_WSH_RT": "\/mm5\/5.00\/features\/wsh\/wsh_rt.mvc" , "Module_Feature_WSH_UT": "\/mm5\/5.00\/features\/wsh\/wsh_ut.mvc" , "Module_Feature_DDL_AD": "\/mm5\/5.00\/features\/ddl\/ddl_ad.mvc" , "Module_Feature_DDL_DB": "\/mm5\/5.00\/features\/ddl\/ddl_db.mvc" , "Module_Feature_DDL_RT": "\/mm5\/5.00\/features\/ddl\/ddl_rt.mvc" , "Module_Feature_DDL_UT": "\/mm5\/5.00\/features\/ddl\/ddl_ut.mvc" , "Module_Feature_DDL_JSON": "\/mm5\/5.00\/features\/ddl\/ddl_json.mvc" , "Module_Feature_FDS_AD": "\/mm5\/5.00\/features\/fds\/fds_ad.mvc" , "Module_Feature_FDS_DB": "\/mm5\/5.00\/features\/fds\/fds_db.mvc" , "Module_Feature_FDS_UT": "\/mm5\/5.00\/features\/fds\/fds_ut.mvc" , "Module_Feature_FDS_JSON": "\/mm5\/5.00\/features\/fds\/fds_json.mvc" , "Module_Feature_SUB_AD": "\/mm5\/5.00\/features\/sub\/sub_ad.mvc" , "Module_Feature_SUB_DB": "\/mm5\/5.00\/features\/sub\/sub_db.mvc" , "Module_Feature_SUB_RT": "\/mm5\/5.00\/features\/sub\/sub_rt.mvc" , "Module_Feature_SUB_UT": "\/mm5\/5.00\/features\/sub\/sub_ut.mvc" , "Module_Feature_SUB_JSON": "\/mm5\/5.00\/features\/sub\/sub_json.mvc" , "Module_Feature_SEA_AD": "\/mm5\/5.00\/features\/sea\/sea_ad.mvc" , "Module_Feature_SEA_DB": "\/mm5\/5.00\/features\/sea\/sea_db.mvc" , "Module_Feature_SEA_UT": "\/mm5\/5.00\/features\/sea\/sea_ut.mvc" , "Module_Feature_SEA_JSON": "\/mm5\/5.00\/features\/sea\/sea_json.mvc" , "Module_Feature_FCT_AD": "\/mm5\/5.00\/features\/fct\/fct_ad.mvc" , "Module_Feature_FCT_DB": "\/mm5\/5.00\/features\/fct\/fct_db.mvc" , "Module_Feature_FCT_UT": "\/mm5\/5.00\/features\/fct\/fct_ut.mvc" , "Module_Feature_FCT_JSON": "\/mm5\/5.00\/features\/fct\/fct_json.mvc" , "Module_Feature_CPD_AD": "\/mm5\/5.00\/features\/cpd\/cpd_ad.mvc" , "Module_Feature_CPD_DB": "\/mm5\/5.00\/features\/cpd\/cpd_db.mvc" , "Module_Feature_CPD_UT": "\/mm5\/5.00\/features\/cpd\/cpd_ut.mvc" , "Module_Feature_CPD_JSON": "\/mm5\/5.00\/features\/cpd\/cpd_json.mvc" , "Module_Feature_CHE_UT": "\/mm5\/5.00\/features\/che\/che_ut.mvc" , "sessionurl": "https:\/\/pipette.com\/mm5\/merchant.mvc\u003F" , "secure_sessionurl": "https:\/\/pipette.com\/mm5\/merchant.mvc\u003F" , "sessionurl_nosep": "https:\/\/pipette.com\/mm5\/merchant.mvc" , "secure_sessionurl_nosep": "https:\/\/pipette.com\/mm5\/merchant.mvc" , "clientside_url": "https:\/\/pipette.com\/mm5\/clientside.mvc\u003FT\u003D7834df11\u0026" , "json_nosessionurl": "https:\/\/pipette.com\/mm5\/json.mvc\u003F" , "json_url": "https:\/\/pipette.com\/mm5\/json.mvc\u003F" , "Screen": "PROD" , "Error_DB_EOF": 1 , "Store_Count": 1 , "Store_Code": "pipette" , "Output_Cookies": { "mm5-pipette-basket-id": { "domain": "", "expires": 1733090463, "httponly": 1, "name": "mm5-pipette-basket-id", "path": "\/", "samesite": "", "secure": 1, "value": "434e67a69d8bb52fc9e5bd8325334906" } } , "Request_Cookies": { "mm-pipette-runtime-branch-datetime": "", "mm-pipette-runtime-branch-key": "", "mm-pipette-runtime-branch-preview-suppress": "", "mm5-pipette-affiliate-session": "", "mm5-pipette-basket-id": "", "mm5-pipette-checkout-session": "", "mm5-pipette-customer-session": "", "mm5-pipette-mailchimp": "", "mm5-pipette-shopascustomer-session": "" } , "Session_ID": "434e67a69d8bb52fc9e5bd8325334906" , "Customer_Session_ID": "" , "Affiliate_Session_ID": "" , "Checkout_Session_ID": "" , "BranchKey": "" , "Store_Template_Path": "\/mm5\/5.00\/templates\/s01\/b20\/" , "Store_Framework_Inuse": "cssui_default_fw" , "MvQUERY_Error": "" , "AffiliateOptions": { "active": 0, "hits": 0, "link_image": "", "link_text": "", "order_flat": 0, "order_pct": 0, "pay_thresh": 0, "pct_slt": "O", "pw_chgauth": 1, "pw_complex": 1, "pw_min_len": 6, "reset_exp": 1440, "resettype": "temporary", "signup": "A", "terms": "" } , "Store_Module_Currency": { "active": 1, "api_ver": 9.07, "code": "usmoney", "id": 77, "module": "modules\/currency\/usmoney.mvc", "name": "US Currency Formatting", "provider": "Miva Merchant", "refcount": 1, "version": 10 } , "Store_Module_Tax": { "active": 1, "api_ver": 9.08, "code": "avatax", "id": 200, "module": "modules\/tax\/mvavatax.mvc", "name": "AvaTax", "provider": "Miva Merchant", "refcount": 1, "version": 10.07 } , "Store_Module_UI": { "active": 1, "api_ver": 9.04, "code": "cssui", "id": 148, "module": "modules\/ui\/cssui.mvc", "name": "Miva Merchant CSSUI", "provider": "Miva Merchant", "refcount": 1, "version": 10.08 } , "Module_Store_Module_Currency": "\/mm5\/5.00\/modules\/currency\/usmoney.mvc" , "Module_Store_Module_Tax": "\/mm5\/5.00\/modules\/tax\/mvavatax.mvc" , "Module_Store_Module_UI": "\/mm5\/5.00\/modules\/ui\/cssui.mvc" , "SystemModules": [ { "active": 1, "api_ver": 9.07, "code": "mailchimp", "id": 98, "module": "modules\/fulfill\/mailchimp.mvc", "name": "MailChimp", "priority": 0, "provider": "Miva Merchant", "refcount": 1, "version": 10.08 }, { "active": 1, "api_ver": 10, "code": "tgreviews", "id": 181, "module": "modules\/system\/tgreviews.mvc", "name": "Product Reviews", "priority": 0, "provider": "Tess Guefen", "refcount": 1, "version": 2.012 }, { "active": 1, "api_ver": 10.08, "code": "quote", "id": 182, "module": "modules\/util\/quote.mvc", "name": "Manage Quotes", "priority": 0, "provider": "Miva Merchant", "refcount": 1, "version": 10.08 }, { "active": 1, "api_ver": 5, "code": "toolkit", "id": 192, "module": "modules\/util\/toolkit.mvc", "name": "Emporium Plus Tool Kit", "priority": 0, "provider": "Weiland", "refcount": 1, "version": 5.28 }, { "active": 1, "api_ver": 5, "code": "zinrelo", "id": 201, "module": "modules\/util\/zinrelo.mvc", "name": "Zinrelo", "priority": 0, "provider": "zinrelo", "refcount": 1, "version": 9.1002 } ] , "SystemModule_Count": 5 , "LogModules": [ { "active": 1, "api_ver": 9.07, "code": "mailchimp", "id": 98, "module": "modules\/fulfill\/mailchimp.mvc", "name": "MailChimp", "priority": 0, "provider": "Miva Merchant", "refcount": 1, "version": 10.08 }, { "active": 1, "api_ver": 5, "code": "malf", "id": 109, "module": "modules\/log\/malf.mvc", "name": "Miva Merchant Access Log", "priority": 0, "provider": "Miva Merchant", "refcount": 1, "version": 10 }, { "active": 1, "api_ver": 10.08, "code": "quote", "id": 182, "module": "modules\/util\/quote.mvc", "name": "Manage Quotes", "priority": 0, "provider": "Miva Merchant", "refcount": 1, "version": 10.08 }, { "active": 1, "api_ver": 5, "code": "toolkit", "id": 192, "module": "modules\/util\/toolkit.mvc", "name": "Emporium Plus Tool Kit", "priority": 0, "provider": "Weiland", "refcount": 1, "version": 5.28 }, { "active": 1, "api_ver": 5, "code": "variantbasketitem", "id": 199, "module": "modules\/log\/variantbasketitem.mvc", "name": "Product Variant Basket Item Replacement", "priority": 0, "provider": "Miva Merchant", "refcount": 1, "version": 1.0003 }, { "active": 1, "api_ver": 9.08, "code": "avatax", "id": 200, "module": "modules\/tax\/mvavatax.mvc", "name": "AvaTax", "priority": 0, "provider": "Miva Merchant", "refcount": 1, "version": 10.07 } ] , "LogModule_Count": 6 , "Maintenance_Warning_Message": "" , "Customer_Session_Verified": 0 , "Affiliate_Session_Verified": 0 , "Checkout_Session_Verified": 0 , "BusinessAccount": "" , "Action": "" , "CSRF_Token": "" , "UI_Exception": "" , "Current_Product_Code": "" , "Product_Code": 45934 , "TemplateManager_Exception": "" , "Category_Code": "" , "Runtime_Category_Load_Product_First_Prod_ID": 60574 , "METAProductFieldCache": { "error_code": "EOF", "error_db_eof": 1, "error_message": "No records found: MER-CMP-MTA-00044", "fields": { "description": "", "keywords": "" }, "product_id": 60574, "result": 0, "values": "" } , "Branch_DateTime": "" , "Sort_By": "disp_order" , "RelatedOffset": "" , "RelatedNextOffset": 0 , "RelatedPrevOffset": 0 , "theme_path": "themes\/00000001\/shadows" , "pageClass": "prod" , "toolkit_licensed": "5434e67a69d8bb52fc9e5bd8325334906" , "tkbin_key": 1701536405 , "http_referer": "" , "referer": "" , "Function": "" , "Module_Function": "" , "status": "" , "Order": "" , "Redeem": "" , "WishList": "" , "Parent": "CLASSIFICATOR-5061" , "MvDO_Error": "Found additional argument \u0027v\u0027 while looking for operator" , "socialURL": "https:\/\/pipette.com\/eppendorf-30132700.html" , "socialText": "Check out the deal on Eppendorf - 96 -well PCR Plates - 30132700 at Pipette" , "socialImage": "https:\/\/pipette.com\/mm5\/graphics\/00000001\/3\/0030132700.jpg" , "checkout_hidden": "" , "Search": "" , "Per_Page": "" , "Customer_LoginEmail": "" , "NOTl.settings": { "links": [ { "text": "" } ] } , "NULL": "" , "catvar": { "code": "" } , "": "" , "cat_code": "" , "Customer_Temporary_Password": "" , "Breadcrumb_Test": 0 , "incatcount": 9 , "b_count": 3 , "is_manufacturer": 1 , "TGR_Review_Success": 0 , "TGR_Error": "" , "Offset": 0 , "AllOffset": "" , "CatListingOffset": "" , "SearchOffset": "" , "TGR_Review_Check": 1 , "TGR_Review_ID": "" END