Eppendorf - cuvette g10
Only 1.5 μL of a sample is required for the measurement with a wavelength range of 180nm to 2000nm
Catalog #
Description
Quantity
Price

Add to Cart

4920623005

4920623005, Eppendorf Base D250WTX - Eppendorf - 4920623005

$24.97

$22.70

4965000025

Top Buret H. 5 mL per rotation, with recircuLation valve, valve toggle, telescopic filling tube, adjustable discharge tube, three adapters for 40/38/32 mm bottle threads, 2 x 1.5 V microbatteries. Quality certificate.

$1,381.00

$1,196.87

4965000025

Top Buret H. 5 mL per rotation, with recircuLation valve, valve toggle, telescopic filling tube, adjustable discharge tube, three adapters for 40/38/32 mm bottle threads, 2 x 1.5 V microbatteries. Quality certificate.

$1,381.00

$1,196.87

6138000018

Eppendorf µCuvette G1.0, Microvolume Measuring Cell for Eppendorf BioPhotometer and BioSpectrometer, 1 ea.

$3,291.75

$3,166.67
Show More Product Options
Product Description:
Only 1.5 μL of a sample is required for the measurement with a wavelength range of 180nm to 2000nm
The Perfect Tool for Measuring High Concentrations in Small Volumes
With an optical path length of only 1 mm, the µCuvette G1.0 features a light path that is ten times shorter than the light path of standard cuvettes. This allows nucleic acid and protein concentrations to be measured with high reproducibility in a much higher concentration range without prior dilution. Due to the hydrophobic coating on the quartz glass, only 1.5 µL nucleic acid or 3 µL protein sample are required for precise formation of the liquid column. Self-absorption of the µCuvette G1.0 is very low, meaning that the entire measuring range of the photometer can be used.
Features and Benefits:
Microvolume measuring cell for measuring 1.5 – 10 µL sample volumes
Concentration determination of nucleic acids and proteins
Measurement of highly concentrated samples without prior dilution
Low self-absorption (≤0.05 A at 260 nm)
Hydrophobic surface coating on quartz glass for precise formation and positioning of the sample volume
Simple cleaning to minimize the risk of sample carry-over
A defined angle for folding the sides of the cuvette guarantees reproducible handling
One-component hinged design prevents the loss of individual parts
Exclusively available for use with Eppendorf BioPhotometer and Eppendorf BioSpectrometer

Do you also need disposable Vis Cuvettes or a UV Cuvettes?
Eppendorf µCuvette® G1.0 Brochure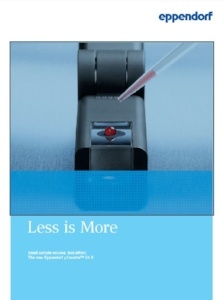 Technical Specifications
Material: Quartz glass and aluminum
Coating: Hydrophobic surface coating
Measuring range: 180 nm–2,000 nm*
Volume: ≥ 1.5 µL dsDNA; ≥ 3 µL protein
DNA detection limit: 2.5 ng/µL (= 0,005A)** ; 25 ng/µL (=0.05 A)
DNA max. concentration: 1,500 ng/µL (= 3.0 A)
Height of light beam: 8.5 mm
Optical window: 2
Layer thickness: 1 mm (± 0.03)
Basic absorbance: ≤ 0.1 A at 230 nm; ≤ 0.05 A at 260 nm
External dimensions (W × D × H): 12.5 mm × 12.5 mm × 48 mm
Device compatibility: Exclusively available for Eppendorf spectrometers/photometers: BioPhotometer and BioSpectrometer
Methods: Quantification of nucleic acids and proteins (A 280 nm), colorimetric protein determination
* Measurable wavelength range depends on the measuring range of the used photometer
** Performance according to the BioPhotometer/BioSpectrometer technical specifications