Lamda Biotech - D118-1000
D118-1000, Taq DNA Polymerase, 100 units, from Lamda Biotech, Inc.
Product Description:
This high-performance Taq DNA Polymerase is specially purified to produce excellent yields with little or no background. Its outstanding activity and unique thermal DNA amplification properties make it one of the most economic DNA polymerases available.
SPECIAL FEATURES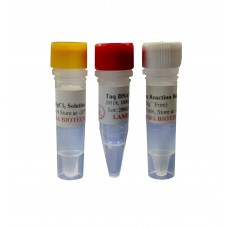 Robust performance
Leaves 3'A overhang
Stable at all storage temperatures
Best price/quality